Exciting things to do in Ho Chi Minh City, the most vibrant city in Vietnam

The economic backbone of Vietnam and the nation's largest metropolis, Ho Chi Minh is one of the most favorite places for party lovers. This is home to a number of fancy restaurants, rooftop and sky bars, sparkle shopping malls in all different styles. Besides the modern breath, travelers also can find great centrally-located museums, French buildings hiding interestingly historical stories and a vintage touch from many boutique cafeterias or souvenir shops.
So what is your "must-do" list in while you are in this miracle city?
See a Water Puppet Show
The tradition of water puppetry dates back to the 11th century in Vietnam, and catching a show should be high on your list for things to do in Ho Chi Minh City.
Although water puppet shows attract plenty of travelers, the most authentic performances are still performed exclusively in Vietnamese. Musicians sat on each side of the stage provide the soundtrack with traditional instruments as well as the voices of the puppets. The puppets themselves, some of which are large and heavy, enact scenes from village life – all on top of a pool of water.
Visit the Reunification Palace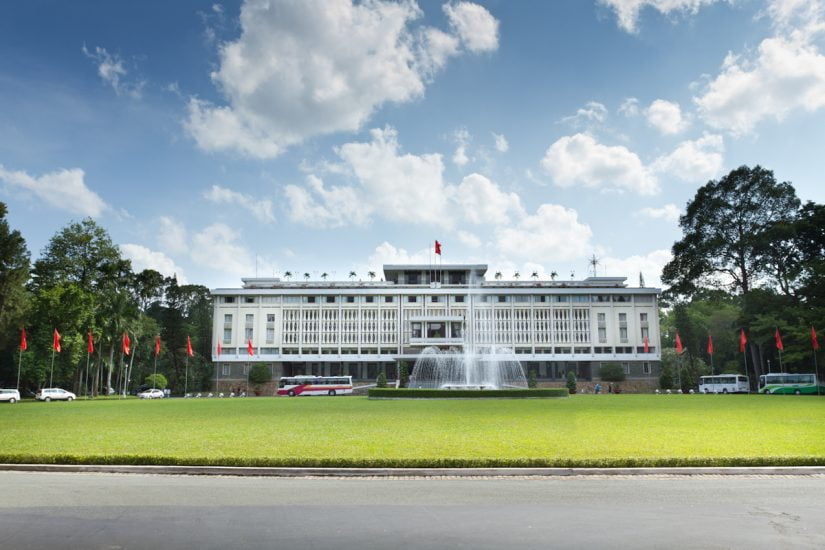 Reunification Palace (formerly known as Independence Palace) has stayed in the mind of many generations of not only Vietnamese but also foreigners, like a symbol of Saigon (Ho Chi Minh city). It is known as the famous historical witness which passed through the two fierce wars against the French and American colonists, served as an administrative and logistical center in the past. The palace is also considered as a marked end to the war, just like the fall of the Berlin Wall, as the North Vietnamese tank crashed its gates on April 30th, 1975.
The building now functions as a museum, one of the major tourist attractions for both locals and international travelers, especially history lovers. Sometimes, it is also used as an administrative building for both meetings and special events. The outside grounds of this Palace display military equipment, i.e. tanks and airplanes. And there are 06 floors here to explore in total. Once inside, rooms have been attached with old war maps which were strategic offices during the battle. There are guest quarters, dining rooms, a game room, and even a cinema to discover.
Go to Ben Thanh Market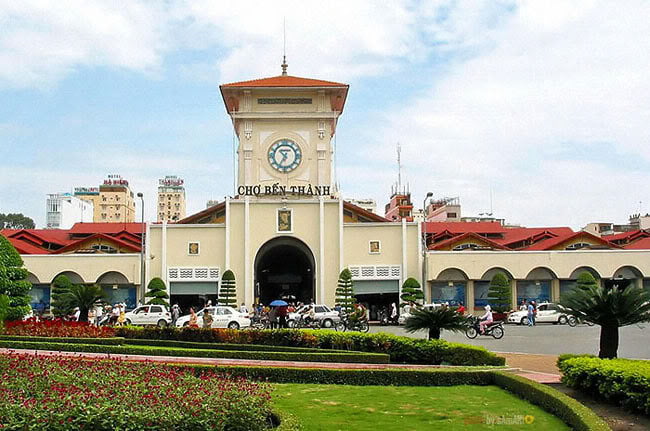 Not only is Ben Thanh Market a structure where the daily trade of goods takes place within its walls, but it also serves as a historical site that has witnessed the ups and downs of Ho Chi Minh City, a landmark, a rendezvous point and a beautiful background for photos.
Whether you're after souvenirs, great travel photo opportunities, or just want to take a whirl in one of Asia's most hectic markets, the Ben Thanh Market is a full-on sensory experience! You'll need to drive a hard bargain to land a fair price.
Visit the War Remnants Museum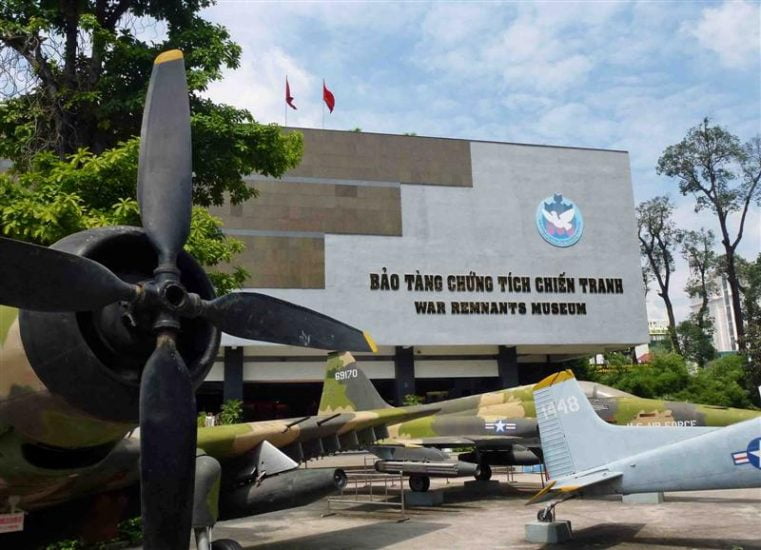 War Remnants Museum is a famous museum located in District 03 of Ho Chi Minh City, which most part of a city tour itinerary. This museum comprises several sections storing military equipment, as well as actual war site photographs, the victims of wars… As per its name, the Museum tells sad stories of the last brutal war.
The artifacts of this museum may make you visit uncomfortable, but after all, they help us realize how fortunate to enjoy life in peace.
See Saigon's Notre Dame Cathedral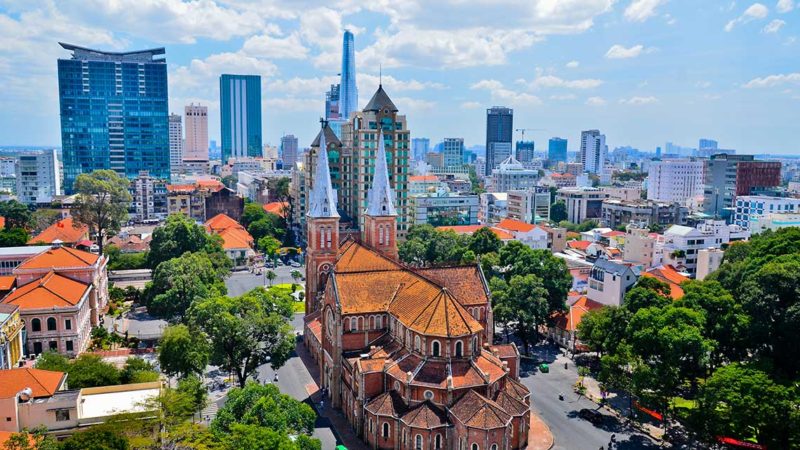 Constructed between 1863 and 1880, the Notre Dame Cathedral in Saigon was built by French colonists. Thousands of people gathered there to pray for peace during the wars in Vietnam. The statue of the Virgin Mary just outside purportedly shed tears in 2005, clogging the streets with people hoping to see the miracle.
Visit the War Market
Strangest of the markets in Ho Chi Minh City, the so-called War Market can be a little tricky to find. The market consists of cages in a basement where relics and artifacts dug up from the French and American wars in Vietnam are sold.
Tip: A majority of the "authentic Zippo lighters" claimed to have been carried by U.S. Marines are cheap reproductions that were buried to make them look aged. Be on the lookout for plenty of scams!
A night out on Bui Vien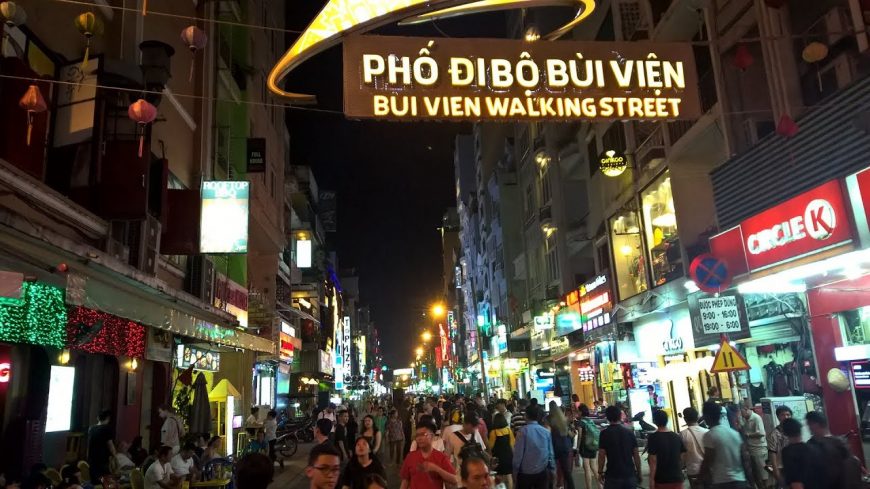 Bui Vien is Ho Chi Minh City's pub street. It's the place to go for wild parties, or just to people-watch. Twenty-four hours a day, 365 days a year there's something to see on this infamous bar street.  Sitting on plastic stools along the busy streets to drink cheap local beer and inhale motorbike exhaust is a rite of passage for all visitors to Ho Chi Minh City.
Let Us Help You Plan Your Vietnam Trip.
Don't let the planning stress you out. Tell us your travel ideas and our travel advisors are very glad to give you suggestions and guidance for your trip planning. We can tailor-make your trip according to your interests and requirements, and help to create the best Vietnam vacation for you.