Cambodia in "green season" is wonderful. Have you known about it yet?

The world loves Angkor. Therefore the interest in Cambodia has been on the increasing demand these recent years. However, in case you visit this magical land in the high season (October-March), tourist crowds and many implications are what that you will have to prepare to face. The iconic Angkor Wat may become some kind of Disneyland in terms of visitor numbers. But there is a fact which is lesser-known that Cambodia has a season bringing travelers a different perspective, the "green season".
"Green season" refers to the months of June – October – a time when the water levels are high, and the whole countryside of Cambodia put on a coat of lush and green. This period still falls at low travel season, be not the hottest time of the year like April and May. Whilst you can definitely expect rain from June to October (especially September) and the temperature will be up in the mid-30s, here are some of the reasons why this is a great time to explore this part of the world:
A temple to yourselves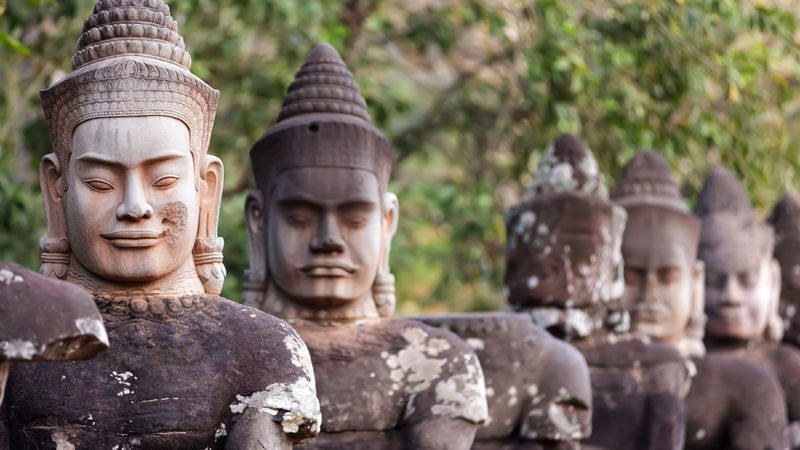 You can expect a quieter Angkor complex in this wonderful period. Most of the big tour groups have vanished, and it is easy to enjoy deserted temples, especially in the early morning, even with Bayon and Angkor Wat.  If you head out to Koh Ker and Beng Mealea, you will not see many other visitors at all and in some lesser-known temples such as the isolated Ta Nei, if you are lucky enough to see some recently released gibbons in the vicinity of the temple.
The Scenery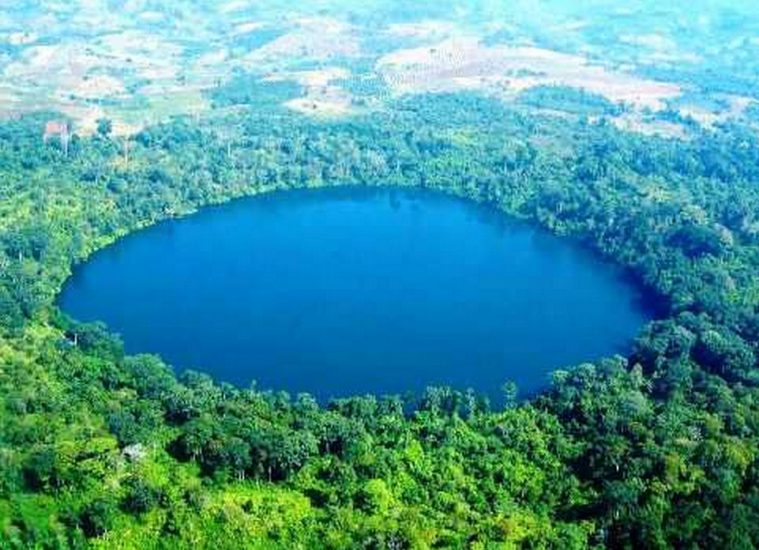 Cambodia, especially the countryside region, shines the most brightly during the green season. When the paddies are a lush green, the country comes to life, just like a sparkling jewel. Every time you look out of your car window, a perfect painting showed up, with sprawling rice fields studded with palm trees, grazing cattle, gently rolling hills, dramatic skylines and dusty tracks snaking through villages. They are just beautiful enough to make you have an illusion of even a deep breathe being able to blow away these fabulous scenes. When conditions are just right, you also can expect spectacular sunsets.
A cooler temperature from July to October
If you visit Cambodia from July to October, the rains will break up the heat, it's easier to explore and spend longer at each site and for much of the time it is still cloudless and sunny in the mornings.
Value for money
Cambodia is pretty unbeatable value for money compared to most other destinations, but in the green season, there are seriously competitive rates and special offers.
The Tonle Sap Lake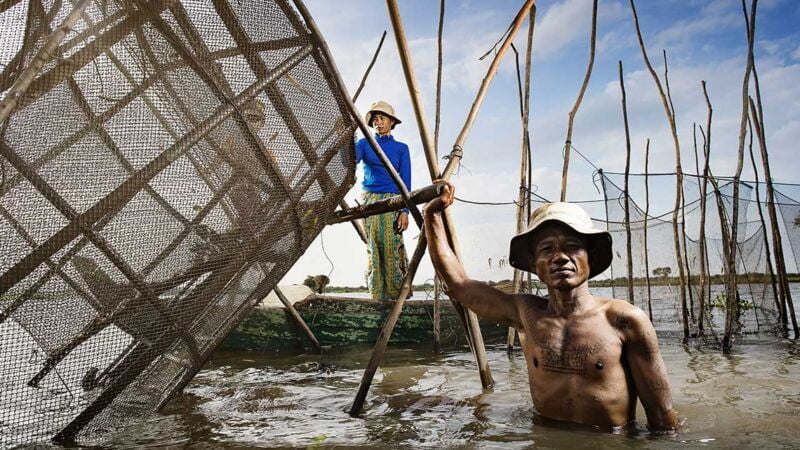 No Cambodia tour can be completed without a visit to Tonle Sap Lake. And the green season is the best time of the year to float around villages of Kompong Pluk and Kompong Khleang.  Water levels are getting higher, making it much easier to navigate through the villages by boat.  Travel in June and July and see the water levels rising, but still appreciate the height of the bamboo skyscraper houses on stilts.  Visit in August and September and the water levels completely flood the mangroves, which is a beautiful sight and it laps at the front steps of the stilted houses.
It is easier to pick the top guides
Private tour guides are not as rushed off their feet as they are in the high season, so it is easier to pick the top guides
Let Us Help You Plan Your Cambodia Trip. 
Don't let the planning stress you out. Tell us your travel ideas and our travel advisors are very glad to give you suggestions and guidance for your trip planning. We can tailor-make your trip according to your interests and requirements, and help to create the best Cambodia vacation for you.