Cambodia and its top 5 beach jewels

The first time you see Angkor Wat, you know your heart lost its way. It was lost in every corner of the country which has been saturated with the mystic stories. It was lost in the locals' eyes which have been filled with an unbelievably strong spirit after decades of a dark history. And it lost in the breathtaking landscape which stretches along the land of the Khmer. But temples, history, culture are not everything about this land. In this small writing piece, we want to introduce about another side of Cambodia which is lesser-known: all the spectacular beaches.
Lush forests, white and free of footprints, freshly caught food and glorious wildlife are what you can expect in your Cambodia trip if you take a visit to the places below.
Otres Beach, Sihanoukville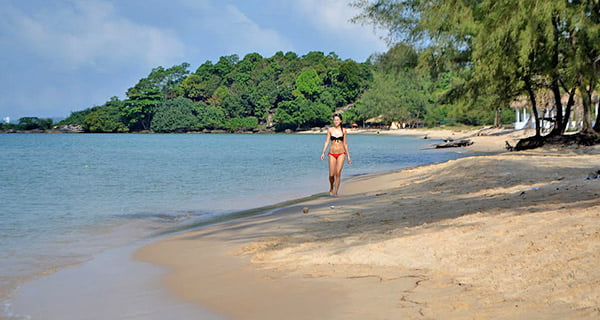 As heaven for party lovers, Sihanoukville is the beach region which has built up its reputation successfully. And while being here, make sure that you will not miss Otres beach – a hidden place that is away from the main stretch and as such, the sand and sea there are generally cleaner and the beach quieter. Otres is lovely for people loving the laid-back style or wanting pure relaxation after vibrant parties in the main region of Sihanoukville. You can lie all day in the sun loungers to enjoy the ocean, snooze, or have a paddle, head into one of the shacks that line the sand for a spot of dinner and a cool beverage. There are a handful of boutique resorts here to trail home to after a quiet drink, rather than a bar-hopping bonanza.
Long Beach, Koh Rong Island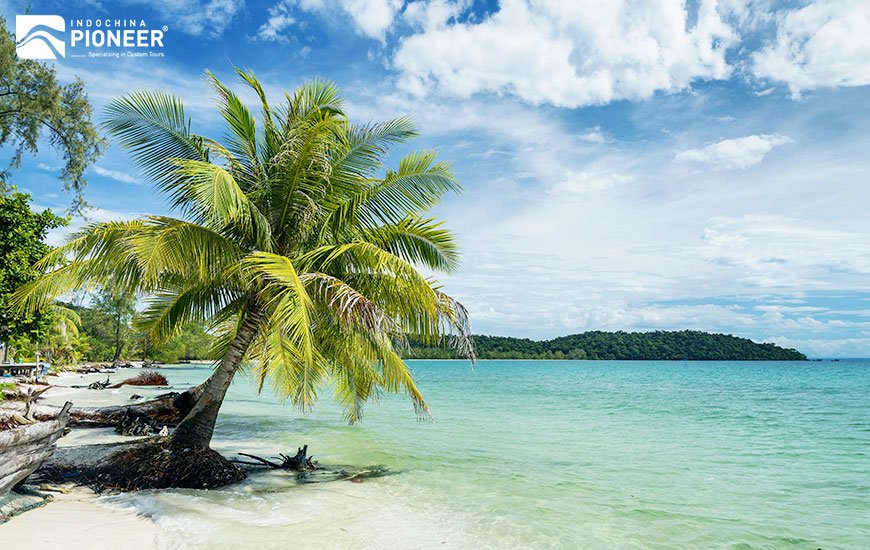 Long Beach in Koh Rong Island is a great base for adventure and watersport lovers in their Cambodia tour. Described as an ideal place for diving, Long Beach provides its visitors a busy marine life and a rich variety of flora and fauna. If swimming and diving still cannot satisfy your high desire for adrenaline, you are always able to jump in a kayak to glide through some of the more remote areas or hire a mountain bike to break up those long lazy days on the beach.
Long Beach, Koh Ta Kiev Island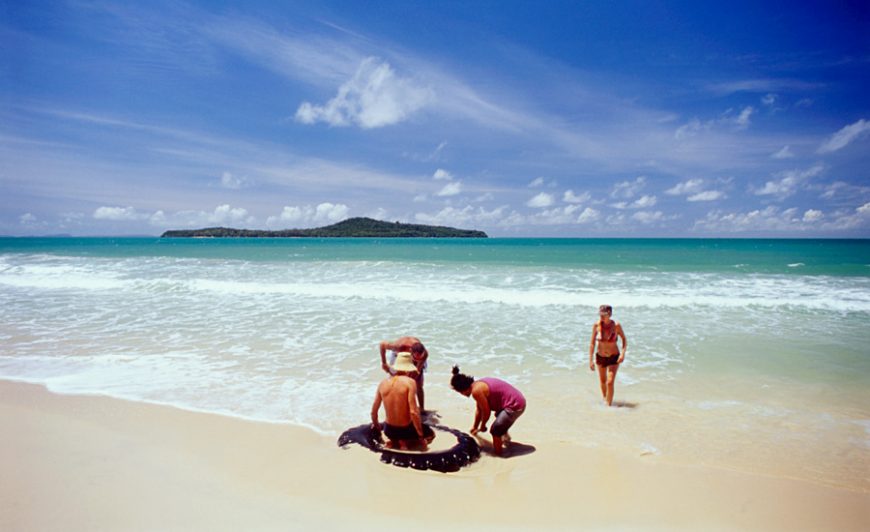 This is absolutely a blissfully quiet white-sand escape perfect for hiding away from the world. The accommodations here are laid-back rather than luxurious, which only adds to the charm, and the forested backdrop provides a great place to go trekking and spot wildlife. Turn off your phone and enjoy your "out of smartphone screen" world. You are on one of the loveliest island paradises in the world.
Koh Pos Beach, off the coast of Sihanoukville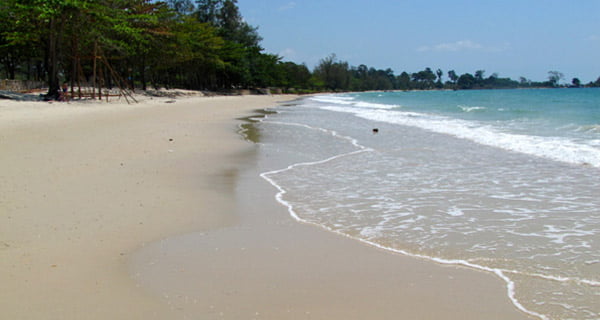 Koh Pos is an undeveloped island just off the coast of Sihanoukville. Quiet beaches, tangled jungle habitat (with plenty of animals to make friends with, perhaps not the snakes) and a marked absence of bars and resorts. The Treasure Island Seafood restaurant does serve some of the best food around though. Like the situation on Koh Ta Kiev Island, Koh Pos is also changing rapidly with a planned Russian development of new hotels and the arrival of a giant bridge joining the island to the mainland. At the moment though, the situation is serene. Just keep your valuables close, the monkeys that live here are convicted pick-pockets.
Main Beach, Koh Tonsay Island (Rabbit Island)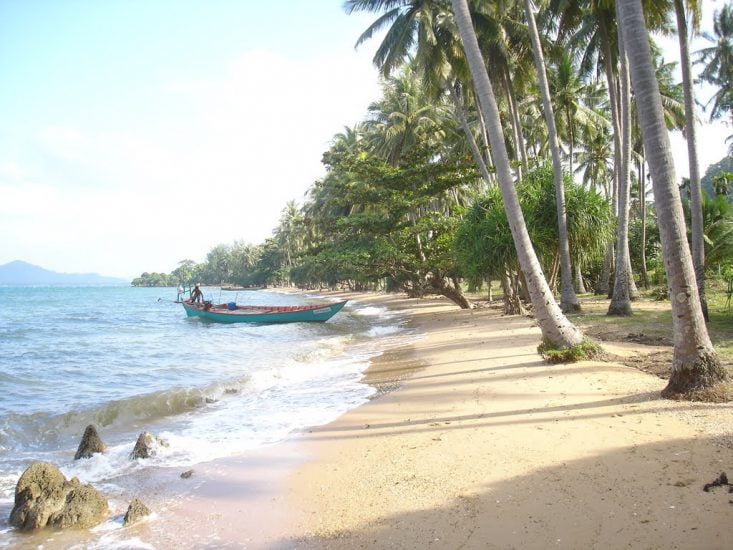 If you're looking for peace and quiet under palm trees, spectacular sunsets and the sounds of waves lapping the shore, you should not hesitate to head to Main Beach in Koh Tonsay Island. Only a 25-minute boat ride from Kep, Koh Tonsay is one of the most easily accessible Cambodian islands. Boats bob on the water and fresh seafood is served just a few meters from the hammocks. Why not team up with a local fisherman to catch your own?