A guide to all the signature floating markets in Mekong Delta of Vietnam

With the history of over 100 years, floating markets are a charm of Mekong Delta region. "Vibrant", "hustle", "unique" etc. are all the words that travelers from all around the worlds use to describe the beauty of these markets. Thanks to the complex and extensive river system of the region, Vietnamese floating markets create a very differentiative feeling from any floating ones in other parts of the planet.
And here is a detailed guide to the signature floating markets of the Mekong Delta, to help you prepare better for your upcoming Vietnam trip.
Nga Bay Floating Market (Hau Giang province)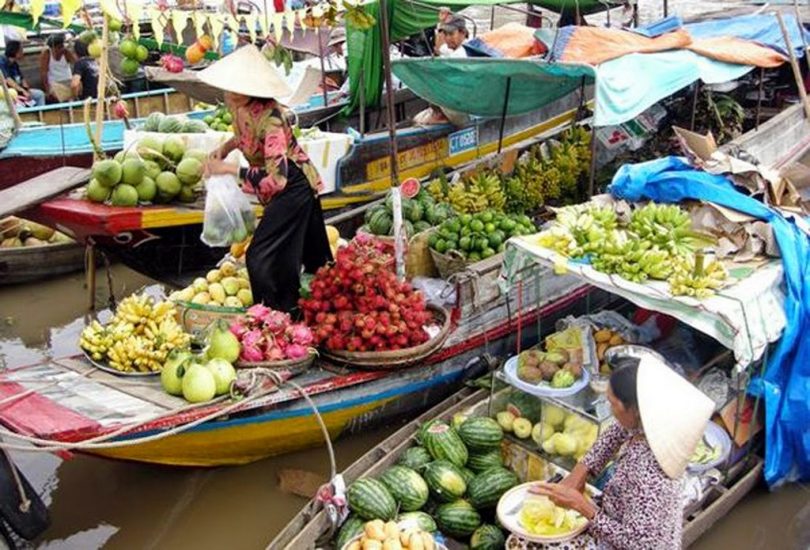 Established in 1915, Nga Bay is always in the list of the most popular floating markets in Mekong Delta, and also an attraction of Hau Giang province. For over a hundred years, it has been a key trading port for the locals in Nga Bay town. Although starting a little later than most markets and is most vibrant around 07.00 a.m, Nga Bay is still a hit with hundreds of boats filled with all sorts of vegetables and fruits. And these boats create a beautiful picture of Nga Bay with all various bright colors. Usually, each boat here will only sell one type of good, mostly agricultural products, with samples hanging on bamboo poles in the front. Other than fruit, you will also find animals being sold, such as lizards, turtles, iguanas, snakes, and even birds.
Nga Nam Floating Market (Soc Trang province)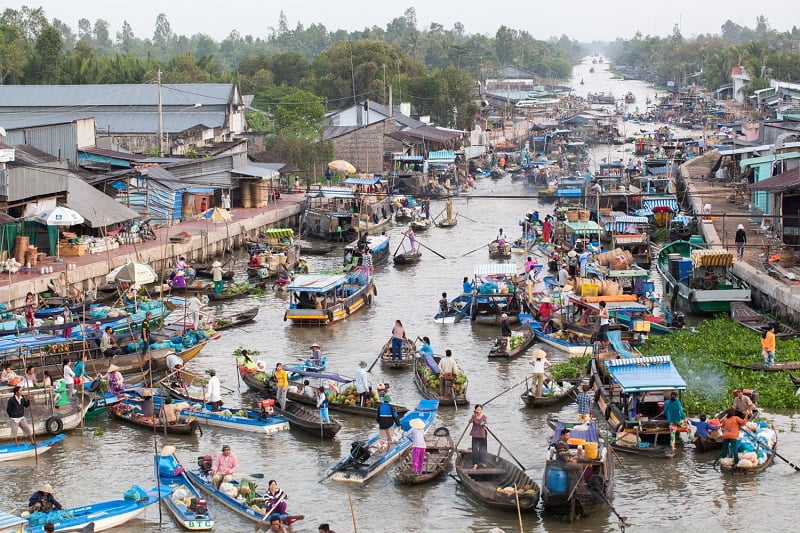 Each floating market in Mekong Delta has something to differentiate itself from the rest, and with Nga Nam, its unique characteristic is the location. It is located in the convergent point of five rivers which flow into five different directions leading to other Southern Vietnam provinces. Therefore, Nga Nam becomes the most central market of the region, and you can find most of the Mekong specialties being sold here—boats full of rice, vegetables, fresh fruit from orchards, shrimp, fish, crabs, frogs, and the like. Even boats with household goods and electronics can be found here. The market comes alive around 03:00 a.m. and reaches its peak around 05:00 a.m. so to not miss all the most fun things, you should stay overnight in the town.
Cai Rang Floating Market (Can Tho)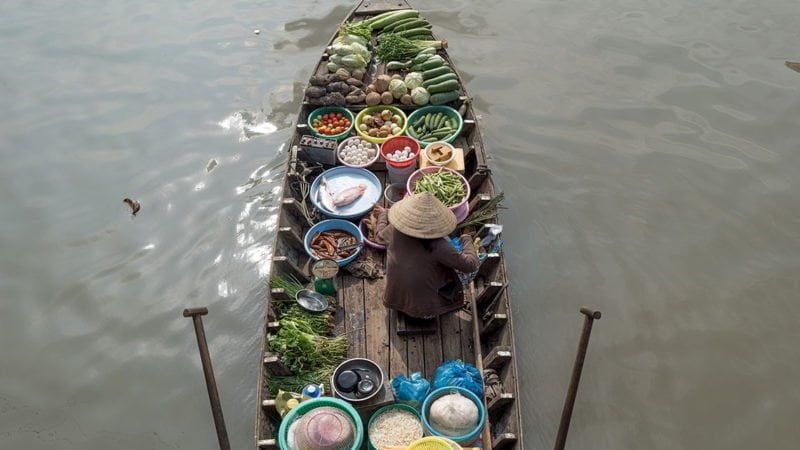 The big wholesale market, Cai Rang, in Can Tho, is one of the unmissable highlights in any Vietnam tour. A visit to this charming country will be not completed if you miss the chance to experience the largest floating market in the Delta. With fruit lovers, this market is really a heaven on earth as you can find all sorts of tropical fruits being sold here. Most of the boats in Cai Rang are packed with a lot of farm products and specialties of Cai Rang Town, Chau Thanh district and the nearby areas like vegetables, coconut, banana, watermelon, grapefruit, dragon fruit and so on. To catch the liveliest scenery and enjoy the most animated atmosphere of Cai Rang market (often 6 am to 8 am), travelers should stay overnight in Can Tho and come here at the dawn, about 5 a.m. You can enjoy beautiful views of the sunrise on your way. And also don't forget to try "bun ca" (fish noodle soup) or "hu tieu Sa Dec" (dry noodle) for breakfast before your lovely journey starts.
Cai Be Floating Market (Tien Giang province)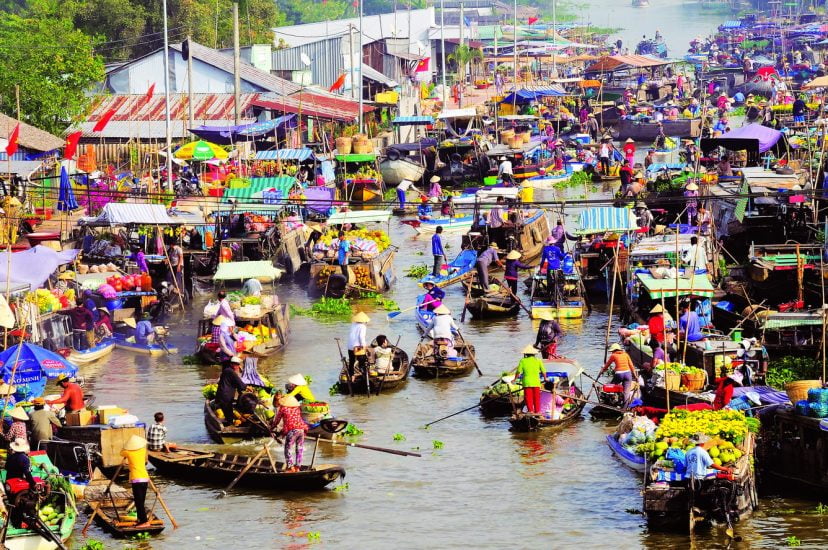 Located on the giant Tien river, the Cai Be floating market is a hub for transporting agricultural goods and seafood from the Mekong to the rest of Vietnam. This is highly recommended for visitors who have never had experiences with floating markets before. The floating market is open later than most, so you can visit late in the day and still experience a bustling atmosphere. After getting embarkation, you will be amazed at the colorfulness and excitement of Cai Be. Most of the boats here are packed with exotic fruits, with aside activities for travelers is accompanying with the local people to see them doing fishing. You also can visit some ancient houses and local home-made coconut candy factories where you can learn how they make coconut candy and try some "hot" candies.
Long Xuyen Floating Market (An Giang province)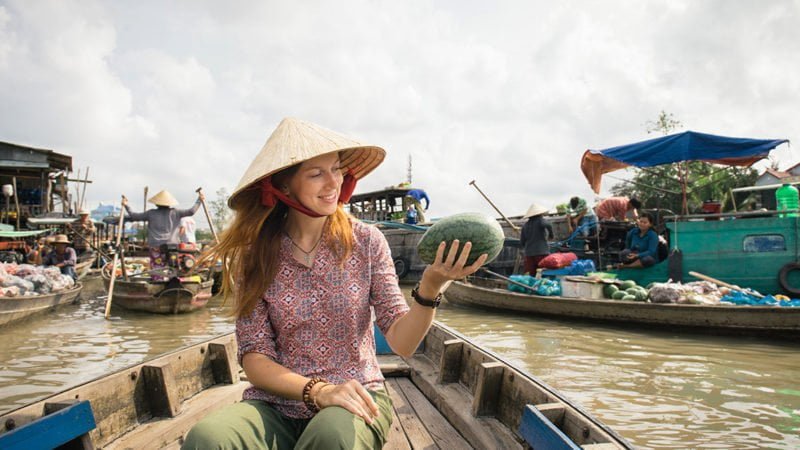 This floating market is a hidden gem. It is one of the less popular floating markets in Vietnam, so head over here if you would like to immerse yourself in an authentic, easy and genuine market atmosphere. The locals here are extremely curious and will try to communicate with you and show you their country (and food!) as much as they can because tourists are not a familiar sight here. You can find a lot of veggies being sold, and fruits, and of course freshly cooked food. Enjoy a meal with a local and you will make their day when they see you slurp like a local as you finish a whole bowl of noodle soup. Don't be afraid to ask for more.