Northern Vietnam in winter: Let's get these exotic experiences

To be considered as the "high season" in tourism, winter is exactly the best period for anyone who is planning a Vietnam trip. The diversity in the typography of Vietnam will bring you the most exciting vacation as you can enjoy both the tropical vibes in the South and the romantic winter in the North. Here, we bring you some of the best things to do during Vietnam's season of sweater weather.
Located in Southeast Asia – a tropical region, but certain parts of Vietnam, specifically Northern Vietnam, goes through four seasons a year: winter, spring, summer, and autumn. Winter in Vietnam usually starts around mid-December, stretching until late March. If you seek a respite from the heat and humidity in Southeast Asia during this period, look no further than destinations like Hanoi, Sapa, and Ninh Binh.
With the fun facts out of the way, here's a list of activities to conquer during winter in Northern Vietnam:
Try to… get lost in Hanoi's Old Quarters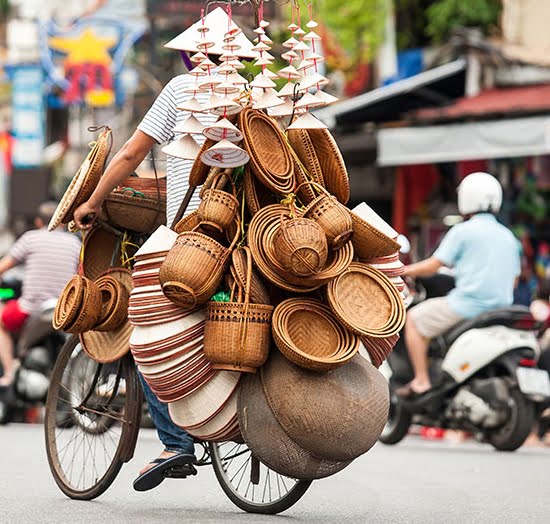 If there's a place list which I can never forget, "Hanoi in the winter" will be top of the list. It is hard to describe the "one-and-only" beauty of Vietnam's sweetheart. It is a beauty coming from daily life fractions, the cracks, the dirty walls, the noises, the smells; the chaotic complexity of the streets, the bumpy sidewalks, the electric wires growing around buildings like ivy. One hundred years of French colonization in Hanoi led to the local architecture having a distinctly European look, and this can especially be seen in the capital's Old Quarter, or "French Quarter". Take a walk around; everywhere you look, you'll catch a glimpse of the country's rich history. Whether you're there to enjoy the cold Vietnam air or to take pictures, you can be sure you will take home some picturesque memories!
Trekking and homestay in Sapa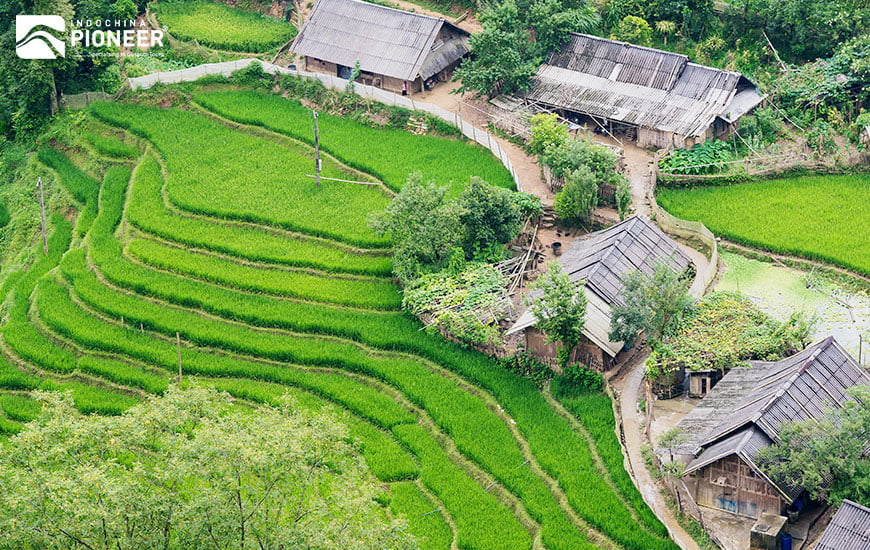 Sapa is well known for its verdant rice terraces, terrific hiking trails and ancient village tribes in the mountains. And it is also the favorite destination for anyone who misses the cold weather back home. This mountainous town is always a heaven for explorer and adventurers. Especially in the winter, don't forget to summit Fansipan Mountain by foot or cable car, then enjoy the feeling of floating above the clouds, the summit (where the picture above was taken) is 3,143 meters above sea level! For the highest chance of having your dream snowball fight, plan your trip between late December to late January when temperatures can go as low minus 3 deg. C.
Explore caves in Ninh Binh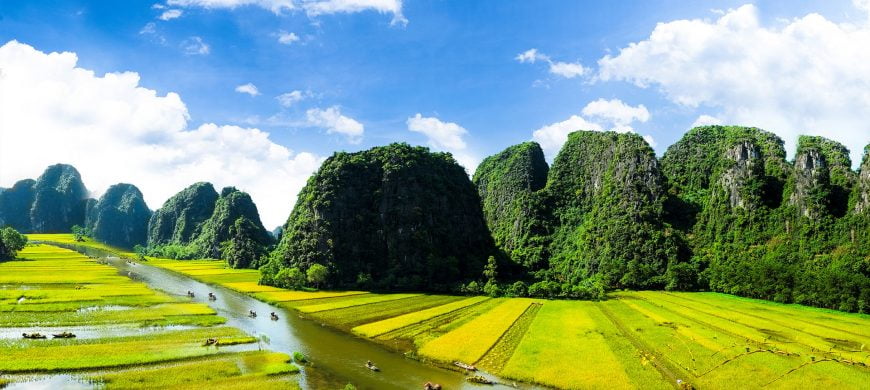 Right in your Vietnam vacation, you can find an "Inland Halong Bay", which is really beautiful and charming in its own way. The limestone karst formations that make-up Halong Bay continue inland for hundreds of miles into the region of Ninh Binh, which is located on the southern end of the Red River Delta. The region is blessed with a breathtakingly natural landscape and rich history. And in the winter, don't miss the scenic boat ride along Trang An. Take advantage of the cool weather to enjoy a boat ride along the river with one of the Vietnamese boat paddlers. Usually, a lady rower will row the boat for you… using her feet! Along the way, you will find gorgeous monumental temples, dozens of grand-looking valleys and as many as 50 different caves! Being paddled along the river on a tiny boat while surrounded by huge mountains on every side is truly an experience that you cannot miss.
Vietnamese Coffee!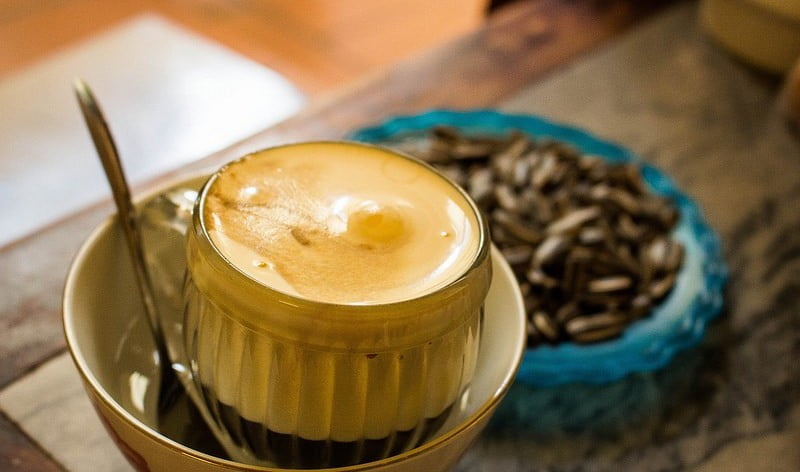 The Vietnamese coffee is famous, as one of the world's biggest Robusta coffee producers. The taste is obliviously wonderful, and the most wonderful thing is that you can also get your caffeine mix with a yogurt coffee or the Hanoian specialty, egg coffee, made with whipped egg yolk (which is lovely in Hanoi's winter). Many say you aren't a true coffee connoisseur until you've tried Vietnamese coffee. Served just about anywhere in the country, Vietnamese coffee can be indulged hot or cold. In a country that takes its coffee VERY seriously, your first sip of joe will make your soul sing throughout the winter!
Indulge in (all) the street foods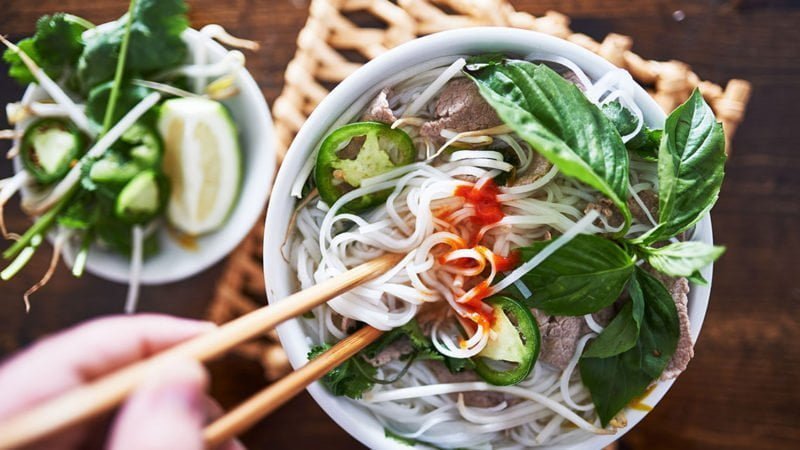 You don't have to throw that diet away when you're traveling in Vietnam. Vietnamese cuisine is considered one of the healthiest cuisines in the world. Order any meal on the street and you will see fresh ingredients, minimal use of dairy and oil, and a selective array of fragrant herbs and meats. And in the winter of northern Vietnam, you just need one word: Phở! Phở (or pho) is an enticing rich blend of soft noodles in a simply delicious piping hot soup broth. You can choose for it to be served either with chicken or beef and it comes with an intoxicating mix of fresh mint, bean sprouts, sliced lime, and chili peppers. This flavourful dish is particularly sought after during winter because of the soulful warmth it provides during cold days. In fact, you will be able to find this at nearly every restaurant in Vietnam.
Let Us Help You Plan Your Vietnam Trip.
Don't let the planning stress you out. Tell us your travel ideas and our travel advisors are very glad to give you suggestions and guidance for your trip planning. We can tailor-make your trip according to your interests and requirements, and help to create the best Vietnam vacation for you.