Keep yourself busy in Hanoi (Vietnam) with these extraordinary experiences

It is so difficult to get bored with Hanoi, the wonder-capital of Vietnam. This town may be the most complicated combination you have ever experienced. Everything is the opposition to each other, then also the perfect replacement for each other. The buildings versus the Old Quarters, the highways versus the small alleys, the high-end gastronomy restaurants versus the pavement life and art of casual cuisine, etc.
So you will find endless experiences in this city, let's start with the combination below first
Watch a Traditional Performance at Thang Long Water Puppet Theatre
The abundance of water in Vietnam's rice fields led creative farmers to a brilliant idea: Using disused but waterlogged rice paddies to stage puppet shows. The water covers up the operating mechanism of the puppets, while the puppeteers work behind a black curtain, accompanied by traditional musicians.
What Hanoi lacks in rice paddies, it more than compensates with a grand water puppet theater near the Old Quarter. The Thang Long Water Puppet Theatre caters to tourists and nostalgic locals with four shows daily, all year-round water puppet performances.
The water puppets act out stories from Vietnamese village life and national legend. Unlike its rice-paddy-bound forebears, the Hanoi theater uses enhanced with modern smoke effects and lighting. Over 150,000 visitors watch this traditional Vietnamese art form at Thang Long every year.
Shop and Eat at West Lake
Visit Hoan Kiem Lake for Hanoi's history, but for culture and nightlife, head over to West Lake, the city's largest freshwater lake and nexus for the capital city's international-quality restaurants, ultra-hip bars, and exciting shopping finds.
Along Thuy Khue Road at the lake's southernmost point, seafood restaurants line the lakeshore, offering cheap seafood overlooking the waters. Travelers with a little more cash to burn can head north towards the Tay Ho expat enclave, passing by the Xuan Dieu strip of luxury hotels, shops, and restaurants.
Visit West Lake on Saturday mornings and find the Tay Ho weekend market selling locally-crafted artisanal products like small-batch perfume and honey.
Take in Sky-High Views at Lotte Center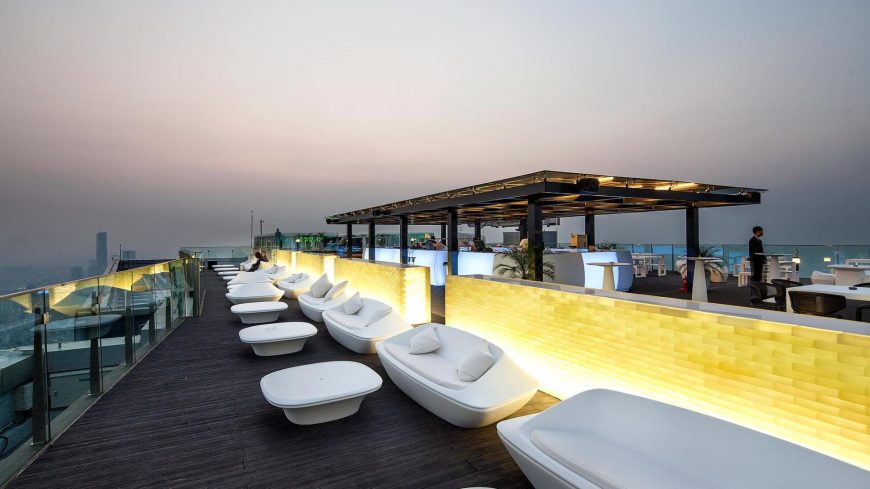 Take a unique, bird's eye perspective on Vietnam's capital from the view deck of the Lotte Center Hanoi. Completed in 2014, the Lotte Center is the city's second-tallest building, which the management capitalizes on with a 360-degree viewpoint from its very top floor. Once you've gotten enough of looking around the city, test your agoraphobia at the Photo at Skywalk, where you can walk on a glass floor with a heart-stopping view of the 65 stories between you and the pavement. Afterward, slow down your rushing heartbeat one level up at the roof-deck bar.
Bargain Hunt at Dong Xuan Market
This imposing building north of the Old Quarter was founded in 1889, and even more than a century after its founding, it retains its place as Hanoi's biggest indoor market.
The ground floor offers little to the foreign tourist except for atmosphere: the shops here cater mainly to locals, selling meat, vegetables, and seafood to haggling homemakers. The upper floor offers wholesale-price dry goods, including handicrafts and other souvenirs for tourists. The food hall lets you chow down on hearty local fare for mere pennies a meal.
If the pickings feel a little slim, wait for the Hanoi Weekend Night Market that breaks out around Dong Xuan from Friday to Sunday nights: Its goods range from China-made knockoffs to beautiful handicrafts from the handicrafts villages beyond Hanoi's city limits.
Walk Around Hoan Kiem Lake

This historic lake is the site of a foundational legend for Vietnam: "Hồ Hoàn Kiếm" means "Lake of the Returned Sword," alluding to the myth that a future emperor received a sword from a magic turtle at the lake's edge. The emperor later used the sword to drive the Chinese out of Vietnam.
Today, Hoan Kiem Lake is a charming social and cultural center for Hanoi citizens—the lakeside is a favorite stop for couples' wedding photos and fitness buffs' morning workouts. The lakeside offers an excellent opportunity to take in the local color, and it's an easy walk to the Old Quarter afterward.
A graceful, red-painted wooden bridge leads from the lakeside to Ngoc Son Temple, where devotees continue to perform their religious duties as they have been doing so for almost a thousand years.
Let Us Help You Plan Your Vietnam Trip.
Don't let the planning stress you out. Tell us your travel ideas and our travel advisors are very glad to give you suggestions and guidance for your trip planning. We can tailor-make your trip according to your interests and requirements, and help to create the best Vietnam vacation for you.