Introducing Asia Pioneer Travel


Goodbye Asia Pioneer – Hello Asia Pioneer Travel
Why we are retiring Asia Pioneer
We are thrilled to unveil our new brand identity – Asia Pioneer Travel.
Asia Pioneer has just celebrated 11 years in the tourism business. The name Asia Pioneer presented our goal and vision for our company when first established: "to become a pioneering agency in the region of Indochina", providing excellent tailor-made holidays for travelers from all around the globe to our region.
After 11 years of success and challenges, we have seen constant changes and movement in tourism, as well as the rising trend which shapes our travel habits. The world is seeing less of a one-size-fits-all package or mass travel and is welcoming new styles of travel – sustainable tourism, experiential travel, customized holidays as well as a remarkable wave in Independent travelling.  Each of these travel movements calls for suitable adaptions not only from the industry but also from businesses. We understand that when new challenges come, it is time for us to change and provide new opportunities for our travellers. We are also proud to have a large number of our previous clients who want to discover other parts of Asia while enjoying our reputable service. For these new times, we have built up our business network in many other Asia countries, not just Vietnam.  Thus, we are retiring the name Asia Pioneer, and introducing Asia Pioneer Travel.
Our new identity –  Asia Pioneer Travel –  represents our long-term vision as a successful travel company in Asia, and also highlights the value of our products and services. This is an important change which will allow us to deliver even more quality, customized holidays to our valuable customers!
Introducing our new Asia Pioneer Travel logo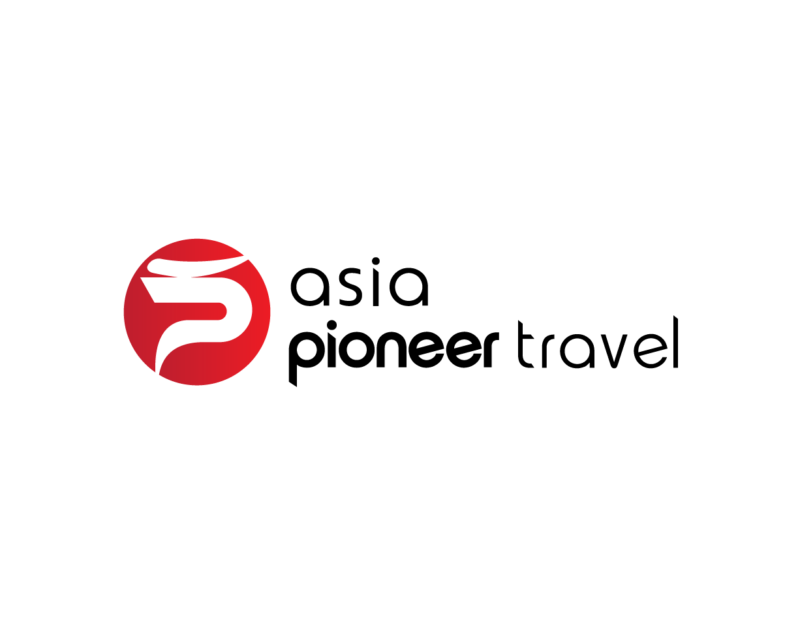 We're delighted to introduce our new logo for Asia Pioneer Travel.
Mission & vision for Asia Pioneer Travel
Vision: Becoming The Number One  Travel Company in Asia to offer Premium Personalized Tours For Discerning Travelers from  Around the World.
Mission: We make each trip in Asia a real holiday treat for our clients by personalizing itineraries, hand-picking services topped up with our local personal touch and know-how so that each and everyday experience is worth our customers' time, money and expectation.
With our new identity and vision, our service is still made up of our 3 core values, which have helped build our reputation in the tourism industry in the region.
Our core values
Pioneer Service
We consistently provide the BEST Service with our attention to detail, quality, focus and guest-centered operations. We provide heartfelt service from beginning to end.
People Values
We can only succeed when our customers are completely satisfied, our employees are committed to this, and people at our destinations are benefiting from our business activities there.
Wow experiences
We are local gurus, on-site specialists, and Asian travel experts who provide a "wow experience" to our valued guests every day.
Launch of APT website
We are launching a brand-new website at www.asiapioneertravel.com
The Asia Pioneer Travel website is built to enhance your experience with our service from beginning to end.
It's now easier than ever to find everything you are looking for – from our tours, travel guides, blogs and news. You can check out tours to our new destinations in Asia, such as Bali, Sri Lanka, Singapore and much more.
In the next few weeks, when you go to the Asia Pioneer website, you will automatically be directed to Asia Pioneer Travel's new website at asiapioneertravel.com.
Plans for the years ahead
Professionalism: We are committed to providing excellent holidays for all of our valuable travelers. We guarantee that each of your holidays is personalized to deliver the most unforgettable adventures to our destinations across Asia. Whether you are travelling to Vietnam, Cambodia, Laos, or wherever, you should always receive the premium quality service from us, that you deserve.
Products and destinations: Customized itineraries to more destinations in Asia, in countries such as Indonesia, China and Sri Lanka, (see them on our new website). For our existing destinations like Vietnam, Cambodia and Laos, there will be new tours together with "off the beaten track" spots with new activities and experiences.
New markets: Our current main markets are English and Spanish-speaking countries and regions, but we look forward to working on new markets – China, Korea, Japan, Russia and German-speaking countries.
Notable changes & announcements
We would like to express our gratefulness to customers who have placed their trust in us for NOT canceling your already booked tours despite Covid-19. We guarantee that your bookings with us are well preserved and will be delivered at an even higher level of service when travel is possible again.