Hunting for fireflies in Vietnam, where should you go?

If you are a fan of the "Tangled" movie, you must be obsessed with the Fireflies scene in this masterpiece. It was too beautiful to make us think that it is only able to happen in a cartoon. However, cartoons are made from life. And in your Vietnam trip, you totally can rebuild this iconic scene, and play the main character by yourself, from our suggestions. 
Admiring hundreds of fireflies in a small boat: My Tho
The Mekong Delta region of Vietnam is one of the many ideal spots for fireflies hunters in Southeast Asia.  If you want to immerse yourself to hundreds or thousands of these glowing creatures, don't hesitate to visit My Tho – the region's capital city that is bustling with open-air restaurants, colorful markets, and meandering alleys. This city has more nightlife than its quieter neighbors and is best for travelers seeking a mix of fun and relaxation. It's easy to hire a local boatman to take you down the river for some firefly-watching, with a camera, and your prince, you are in Tangled!
Blend into the sparkling river at twilight: Ben Tre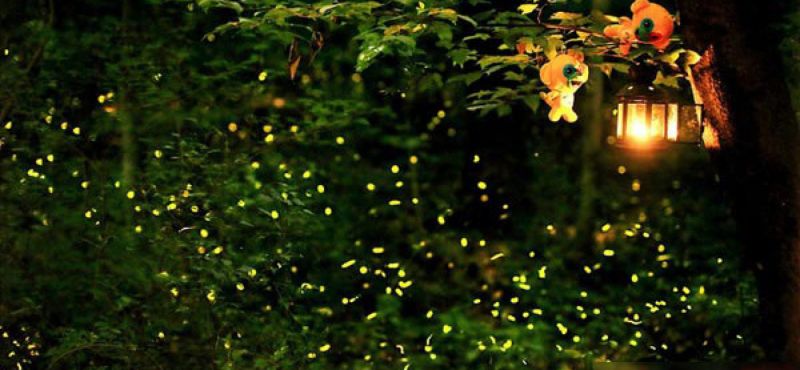 While being in Mekong Delta, it will be a big miss if you don't take a short ship to Ben Tre – the "coconut capital" of Vietnam. Ben Tre is a peaceful village with the local Revolutionary Museum and coconut candy factory that attract a large number of visitors. And this relaxing town is equally famed for the hundreds of fireflies illuminating the river's shores. It's best to head down the river on a small boat just before the beautiful sunset and watch the stunning colors melt into the darkening sky. As the boat glides down the river, you'll start to notice lights in the river banks. Along the river, there are hundreds of fireflies near mangrove bushes emitting their bio-luminescent glow. And you will live the dream!
Walking into The Lover novel: Sa Dec
From a sleepy village that is situated along the Mekong River, Sa Dec quickly becomes famous all over the world as the setting for French novelist Marguerite Duras' The Lover and attracts thousands of The Lover's fans who want to admire the buildings mentioned in the book. This lovely town features colonial-style buildings, a beautiful flower nursery, and a beautiful pagoda in the center of the town. In the evening, you can hire a boatman to guide you down the river to view glowing fireflies amidst the peaceful sounds of crickets and frogs.
Finding fireflies in a tropical forest: Cat Tien National Park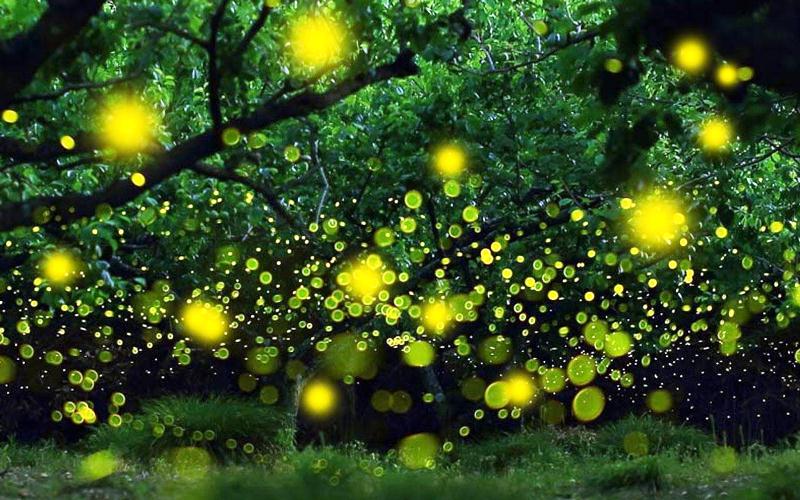 Cat Tien National Park is a sprawling tropical forest reserve in southern Vietnam that takes a four-hour drive from Ho Chi Minh City. This gorgeous tropical forest features centuries-old trees, many species of birds, wildlife, flora, and fauna. The park's Crocodile Lake is reachable by a trek through the park where you can see these beasts lazing in the sun or swimming in the serene waters. This stunning reserve is also where hundreds of fireflies can be found at twilight, flickering between the bushes and enormous trees. Catch a glimpse of their trademark glow by hiking through the trails just before sunset.
Cuc Phuong National Park
This gorgeous national park is located in Vietnam's Ninh Binh province which lies on the Red River Delta. The park is a sprawling area featuring thousand-year-old trees, beautiful waterfalls, ancient monasteries, and an endangered primate rescue center. Exploring Cúc Phương is an adventure in itself but it's also a great place to go in the hope of seeing fireflies. While walking the trails at twilight you're likely to encounter thousands of flickering fireflies creating an enchanting glow amidst the near-deafening noise of cicadas!
Let Us Help You Plan Your Vietnam Trip.
Don't let the planning stress you out. Tell us your travel ideas and our travel advisors are very glad to give you suggestions and guidance for your trip planning. We can tailor-make your trip according to your interests and requirements, and help to create the best Vietnam vacation for you.