Go on a trip from Xiang Khoang to Vang Vieng (Laos), what can you get?

You will never get the full taste of Laos with just one short trip. This Southeast Asian sleeping beauty hides so much to explore, not just in popular destinations like Vientiane or Luang Prabang. You will have to crawl back again or extend your Laos vacation once you got under its spell. For example, with an excursion from Xiang Khoang and Vang Vieng, what are all the special experiences that you can archive?
Chapter 1: Xieng Khoang
Located 435 kilometers northeast of the Vientiane capital, Xieng Khoang consists of steep mountains and green hills and offers the awesome beauty of high mountains and rugged karst formations. You will find a lot of authentic and unique activities here. And they are:
Discovering mysterious relics from up to 500 BC at Plain of Jars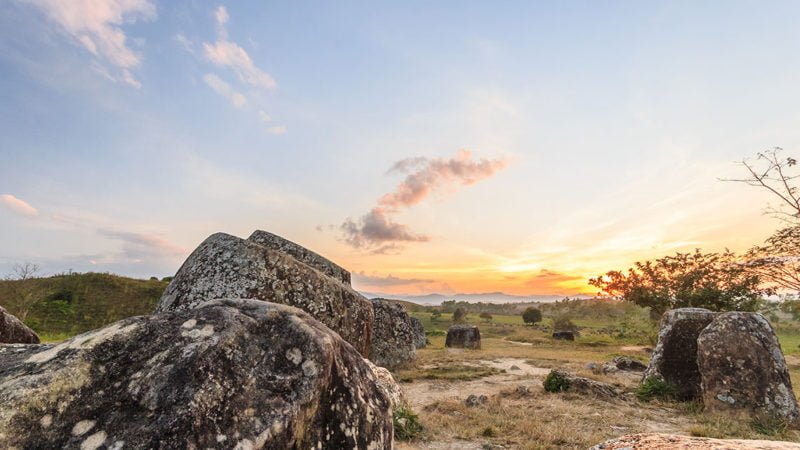 The Plain of Jars is a spectacular sight covering an area of hundreds of kilometers, with over 2,500 giant stone jars ranging in height and diameter from around one to three meters. The Plain of Jars has a secret history that archaeologists are still trying to uncover.  Local legend holds that the jars were used by giants to store rice wine, while another theory suggests that they were huge water butts designed to store rainwater for travelers. Now, it's thought that they, in fact, played a role in prehistoric burial practices. So no matter which stories are true, this Asian version of Stonehenge still has all ingredients to stir the imagination and can attract a number of travelers.
Witnessing how groceries are done at the Laotian market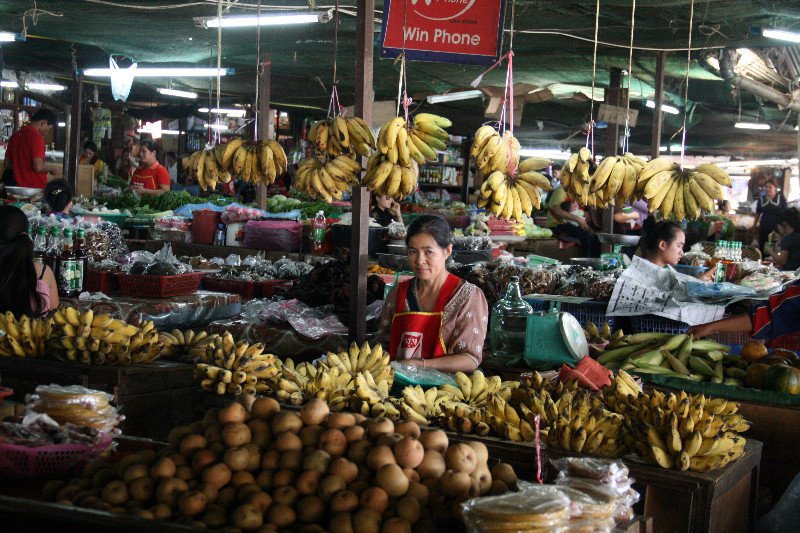 If you have never experienced local markets in Southeast Asia, Laotian markets may be really eye-opening. There's no such thing as having an air-conditioned market; locals, store owners and shoppers alike held a very friendly connection with each other. There were glimmers of warmth in their eyes, and a simple hello brought out the smiles in their eyes and on their faces in an instant. Here you will witness all-fresh-things-that-you-can-think (or imagine)-of, vegetables, fruits, meats, rice, fishes, etc. And they are all in "original" form 😉 The sound, the smell, the atmosphere will create a vibrant and warm mood for all visitors. And you will also have the chance to grab a number of delicious things in these markets.
Admiring the Enduring Buddha statue that has braved 3 wars of history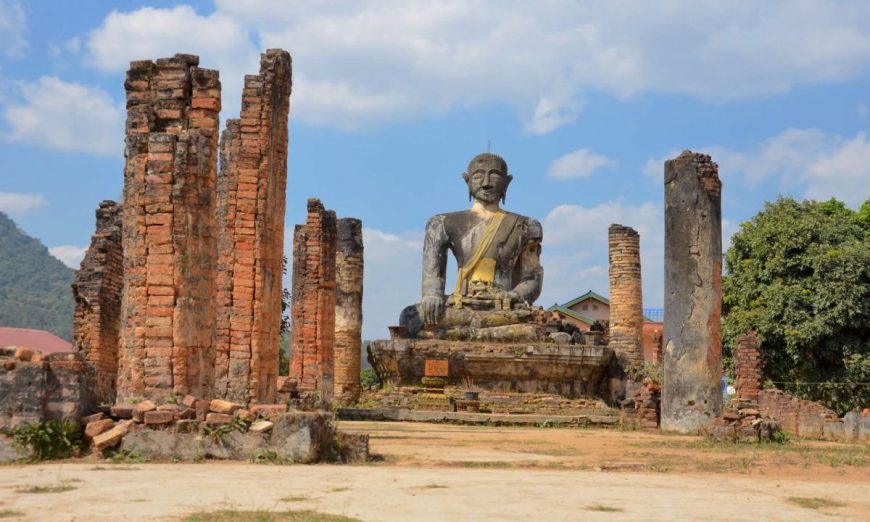 Considering the 3 wars this UNESCO site has gone through since it was built, it's a considerable achievement that the Enduring Buddha remains strong even till today. Originally housed within a Buddhist temple that was destroyed in the 14th century, the Buddha has survived a Chinese invasion, the Indochina War, and World War 2. All four walls of the temple have been destroyed over and over, with the floor full of rubble. Take one look and you'll know how much this place has gone through over the centuries. It's common to see locals and visitors alike come here for prayer. Having survived so much, it's no wonder the locals deem this as a very special Buddha.
Chapter 2: Vang Vieng
Vang Vieng hides a number of fantastic activities, such as rock climbing, kayaking, biking, walking and especially the famous tubbing. Shaking off the reputation as a mecca for backpacker parties, Vang Vieng nowadays in a fast transformation process into one of the best adventure travel destinations in Laos.
Flying through the forest, rice paddies, and a sparkling blue lagoon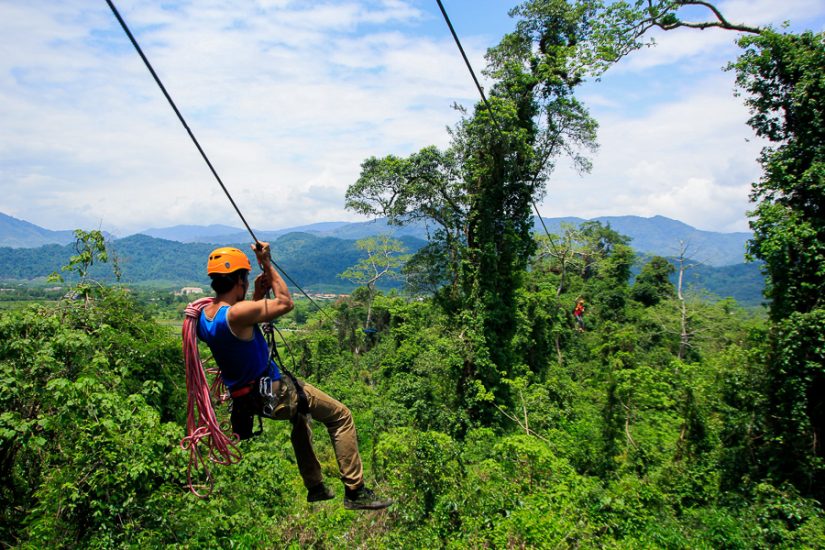 You will get to zip down two separate courses – through the trees and across rice paddies, and the Blue Lagoon. And to start, you should forget all the preconceptions of zip lines and adventure obstacle courses you've experienced before in some amusement park. This is a real zip line. But don't worry, you won't regret getting over the mental barrier of zipping down like the wind.
The landscape below your feet is crazily, frankly spectacular!
Go tree-trunk diving into clear turquoise waters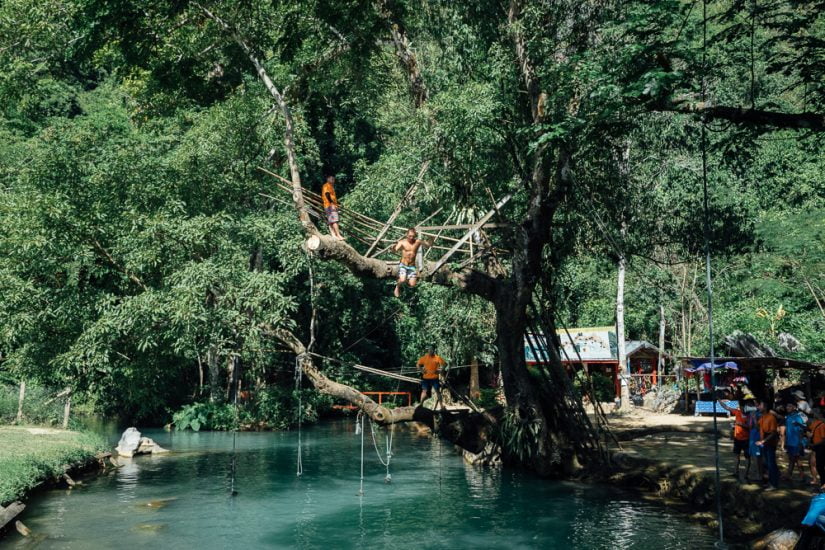 Let Us Help You Plan Your Laos Trip.
Don't let the planning stress you out. Tell us your travel ideas and our travel advisors are very glad to give you suggestions and guidance for your trip planning. We can tailor-make your trip according to your interests and requirements, and help to create the best Laos vacation for you.