Essential Things To Do In Hoi An Of Vietnam
"City of Lanterns", "Vietnam's UNESCO Heritage Site", "Yellow City", "Central Vietnam's Food Hub", … the names that travelers have for Hoi An are endless. The former port town is beguiling, and the fact that people can call it by many names proves that. Entitled the Best City in the World in 2019 by Travel + Leisure, this small town has had thousands of travelers from all over the world fall for its charms.
If you haven't been here, it's time to do so! And we'll show you the reasons why.
Essential Things To Do In Hoi An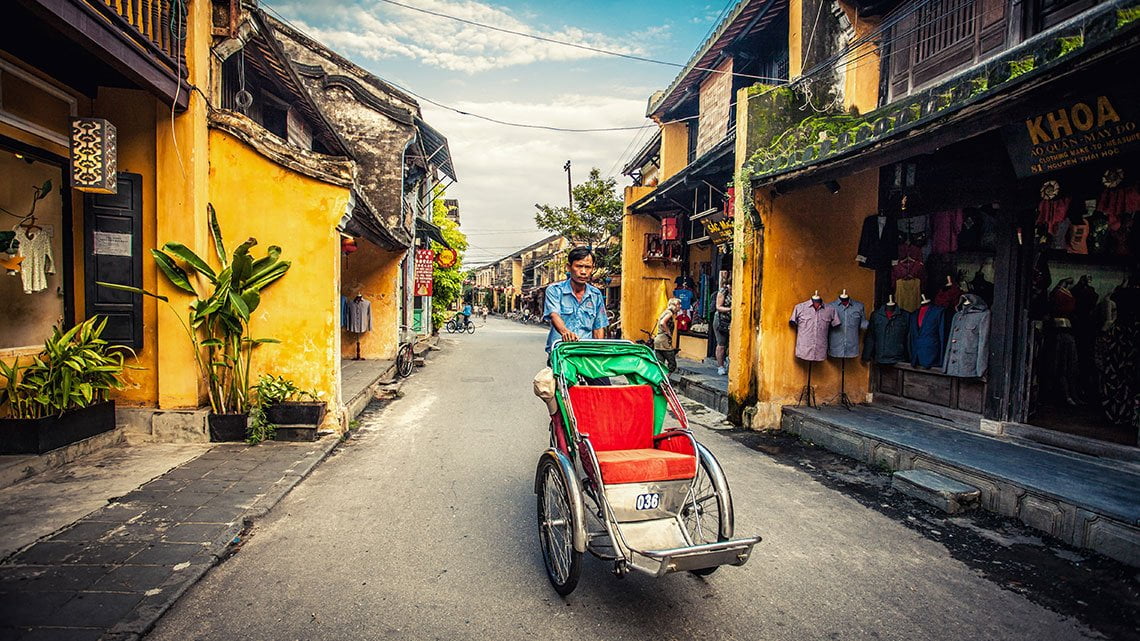 The first thing to do in Hoi An is to visit its Old Town. This part of Hoi An is characterized by traditional yellow-mustard houses lining up along the riverside of Thu Bon River. More than that, you will find the unmistakable mix of culture right in the heart of the town. As it was a thriving trading port a few centuries back (15th-19th century), marvel and see the clear differences in the architecture of Japanese merchant houses, Chinese temples and ancient tea warehouses. Some of the most important landmarks are the Japanese Bridge, Tan Ky House, and Phuc Kien Assembly Hall, the Museum of Hoi An, the Museum of Sa Huynh Culture.
And yes, Hoi An is touristy, but you won't feel overwhelmed. The Old Town is well preserved with historic sites that are within walking distance from each other, and the dreamy atmosphere has never changed since it started to welcome more visitors from all over the world!
Take a cycling tour to the countryside
Grab your hat and hop on a bike for a tour of the countryside of Hoi An. You'll be welcomed with the lush scenery of rice fields and lovely local villages. It is also possible to get to the beaches with a bike, and it doesn't take long either. The best time to do this is at sunrise to avoid the heat. Feel the breeze of the wind on your skin and the fresh earthy scent in the air as you bike past the rice paddies. Some locals working on the fields will wave at you with a bright smile on their faces, ride leisurely to admire the natural scenery, and wave back at the friendly locals!
Enjoy Hoi An's nightlife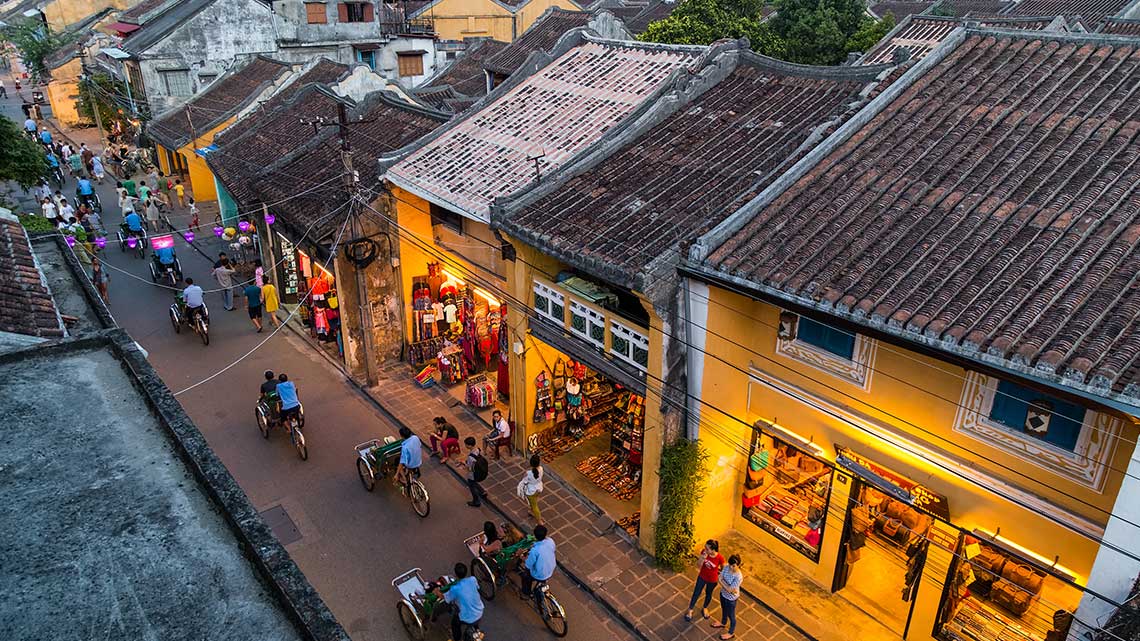 "City of Lanterns" – the name itself is a big suggestion for what we are going to talk about. While during the day Hoi An is attractive for its distinctive buildings, the nightlife is even more eye-catching with the riverside lit up by hundreds of lanterns. It's a sight that you will never get tired of looking at. Every big and small alley becomes dazzling under the lantern light, take a stroll around the town after dark to enjoy another beautiful face of Hoi An.
The evening is also a great time to chill out, sit down, and grab a beer by the riverside, there are a ton of restaurants, coffee shops and pubs for your interest. It is likely that you will come across some street performances in the evening too.
Treat your taste buds
It's a fact we all know that Vietnamese food is one of the tastiest in the world and many have come to love the many dishes with fresh ingredients and cooked by skilled hands. For gourmets, the good news is each region in Vietnam has very distinctive dishes, and Hoi An is definitely the food hub of central Vietnam.
Banh mi Phuong (Vietnamese sandwich), com ga (chicken rice) and cao lau (Hoi An's specialty) are just some of the dishes you wouldn't want to miss out on. Vietnamese cuisine including Hoi An's food features a wide range of fresh ingredients, supplied by the neighboring villages, which emphasize the perfect balance and delicacy of flavours.
Improve your skills with a local cooking class
After enjoying delectable food in Hoi An, you may want to bring it home so that your friends and family can try it too. Join a cooking class in Hoi An, where you can improve your skills in the kitchen by making the delicacies of Hoi An.
You will learn to make local dishes from scratch, from shopping for ingredients at the local market to practicing the local techniques. Along the way, you will understand more about not only the dishes you are making but about a part of the Hoi An and Vietnamese culture, because, in this country, its cuisine reflects a great part of its thousand-year history.
Tip: Red Bridge Cooking School is one of the best in Hoi An for cooking sessions.
Shop for an outfit made by skilled tailors (at a surprisingly cheap price)
Hoi An is renowned for its tailors. Looking for a new suit, dress, or perhaps a tailor-made ao dai… you have them all here. A new suit would not have to make a hole in your wallet and a new dress would be made with fine silk and delivered in like 2 days? Don't hesitate to reward yourself with new clothes on your adventure.
Get on the water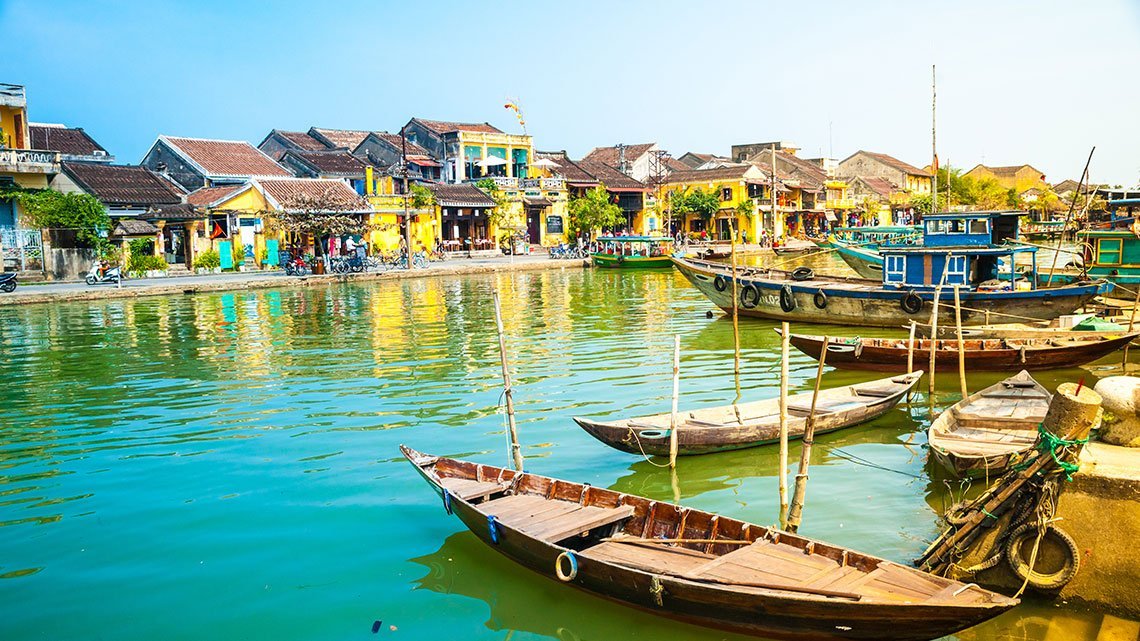 Cruise along Thu Bon river to see the beautiful local life unfold before your eyes. As you get further from the town's centre, the atmosphere and the scenery become more tranquil. The feeling of being embraced by pristine nature can be a much-needed break between days of traveling.
You will also have the choice of doing a sunset cruise tour. Enjoy the awe-inspiring sight of the town coated in golden light and the entire river water turn sparkling.
Hang out at the beach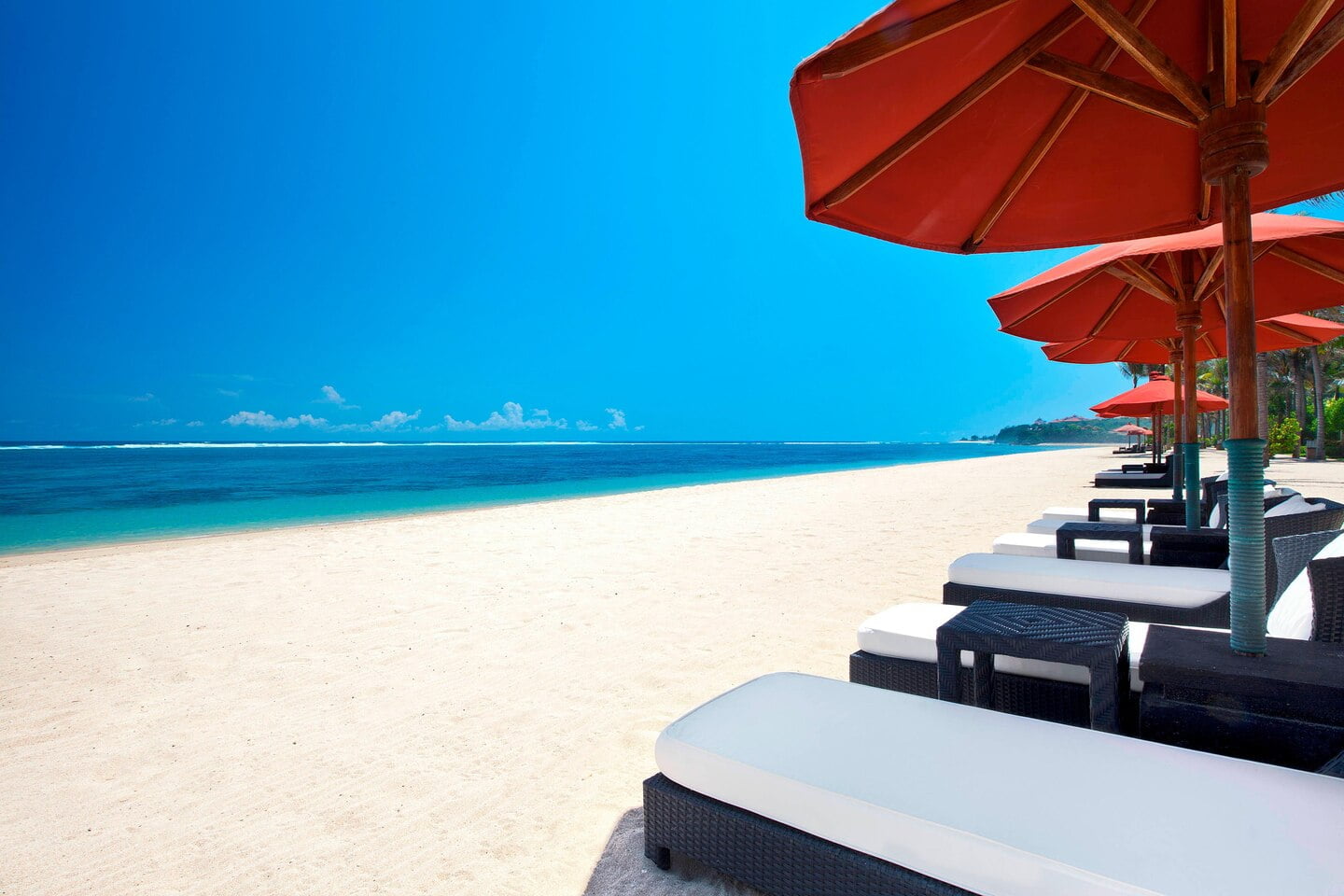 "How can this place be real?" You may ask yourself this question when you are in Hoi An, an ancient town cradled by rice fields and lovely villages, with its well-preserved heritage, and delicious food, and is only a short distance from the beach?!
Just 7km from the old town is An Bang Beach, one of the most stunning beaches in the central region. Unspoiled by development, this spot has become popular for travelers wanting to soak up the sun and enjoy an array of beach activities – swimming, paddle-boarding, and surfing. For lunch or dinner, of course, there's no better option than fresh seafood, but you can opt for Western cuisine as well, so choose what suits your appetite from the many restaurants along the beach.
Wrap Up
There are more cool things to do in Hoi An. While this town is small, it holds an unparalleled charm to all visitors. Once you have the chance to discover the "soul" of Hoi An, surely you will be intrigued and can't stop wanting to come back here again. There is a good reason while the Ancient Town of Hoi An is always on top of the must-visit destination list in Vietnam. So come and see for yourself why it is such a great place for a holiday in our beautiful country.
Let Us Help You Plan Your Vietnam Trip.
Don't let the planning stress you out. Tell us your travel ideas and our travel advisors are very glad to give you suggestions and guidance for your trip planning. We can tailor-make your trip according to your interests and requirements, and help to create the best Vietnam vacation for you.