Asia Pioneer Travel – Celebrating 10 years of excellent performance

This year is a special one for us as Asia Pioneer Travel (formerly Indochina Pioneer) is celebrating 10 years in business. Ten years! How did the time go so fast? The day Asia Pioneer was "born" seems like it was just yesterday.
We still remember constantly pressing the 'send and receive' button on Outlook, back in 2009, as we excitedly awaited a response to our first welcome email sent to dozens of potential customers across Australia and America.
How different it is today. With thousands of customers and no sign of slowing down or pressing the send and receive button, we have now established ourselves as one of the country's leading travel agencies.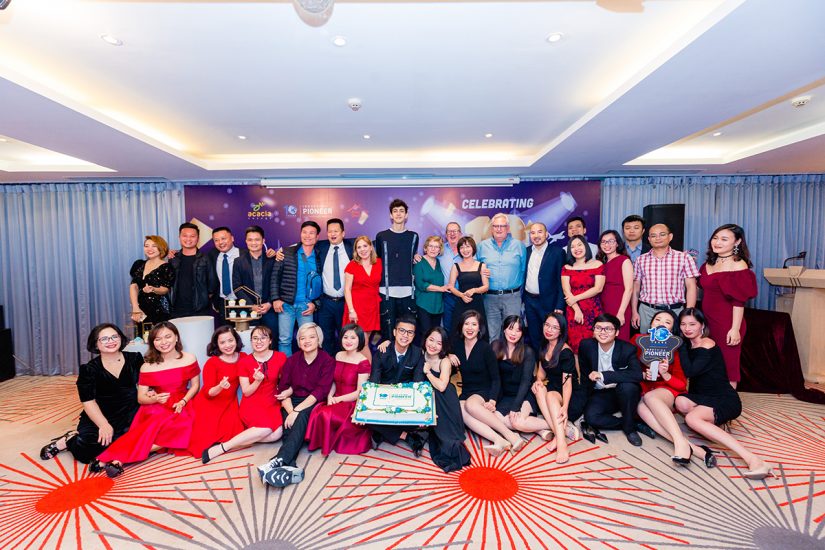 Our Asia Pioneer Travel team today
We're so proud that our company has grown and expanded our service from proving signature holidays in Vietnam, Cambodia and Laos to other countries in Asia including Thailand, Myanmar, Sri Lanka, Nepal, with the newest destination is Indonesia.
After 10 years of operating in the tourism field, Asia Pioneer Travel has become one of the leading Destination Management Companies in Vietnam. While we have experienced remarkable growth in business, what remains the same for us from day 1 is our ethos – it is to bring our customers the most authentic Asian experiences with first-class service.
Asia Pioneer Travel is proud of its reputation in the industry.  From being listed on TripAdvisor in 2012, we worked hard to improve our offers to clients, thus received our 1st Certificate of Excellence from TripAdvisor in 2013 and have continued to receive this prestigious award each year to the present. And in 2018, Asia Pioneer launched a new brand – Asia Trip Deals, offering more affordable packages in order to best meet our customers' diverse interests and budgets.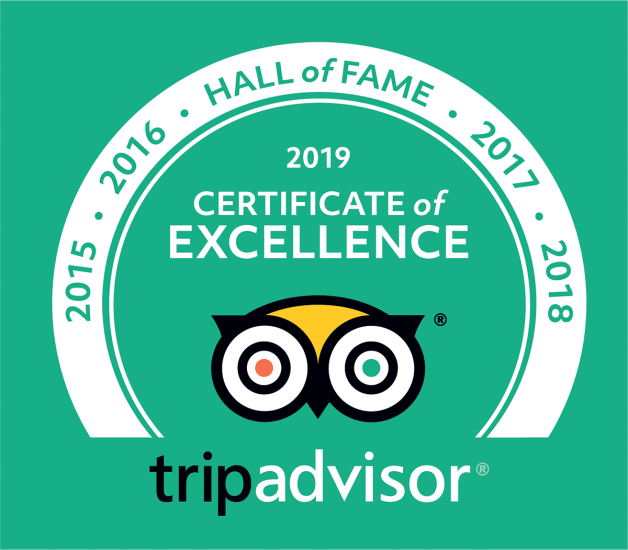 TripAdvisor's 2019 Certificate of Excellence for Asia Pioneer Travel
The reviews from our dear customers are proof why we have constantly received this honour:
"We are so grateful to Ryan Mac and the Asia Pioneer team for organizing the perfect family vacation for us in northern and central Vietnam. We saw places and had experiences we never would have without them. They made the trip easy and fun. We will be using them again!" – Stefanie, USA

"I contacted Asia Pioneer and was assigned a Travel Specialist, Elly, who worked through our initial trip thoughts and gave us some additional suggestions. She was very responsive, listened to the type of trip that we wanted, and always followed through. Her professionalism built our confidence in a successful trip." –  Kristine, USA

"Sally created the most enjoyable trip to Cambodia for our family. Everything was wonderful from the tours, food, hotels, guides and entertainment! We didn't have to worry about a thing. We'd definitely use Indochina again and can't wait to plan our next trip." – Kim, UK
Our markets have not stopped extending and now we are serving a large number of customers from all over the world. We are now a member of the world's leading associations of travel professionals as well as partners with some of the most reputable international travel companies.
Asia Pioneer Travel's success story would not be the same without our professional team. Our members are identified as knowledgeable, proactive, responsible, and most importantly, happy people. We put great effort to create the best exciting, intriguing and amazing destinations and experiences. Travel planning means more than a job to us, it is our passion!
A decade of doing business is definitely something to celebrate, so we were so excited to host a small party that reflects such an incredible journey.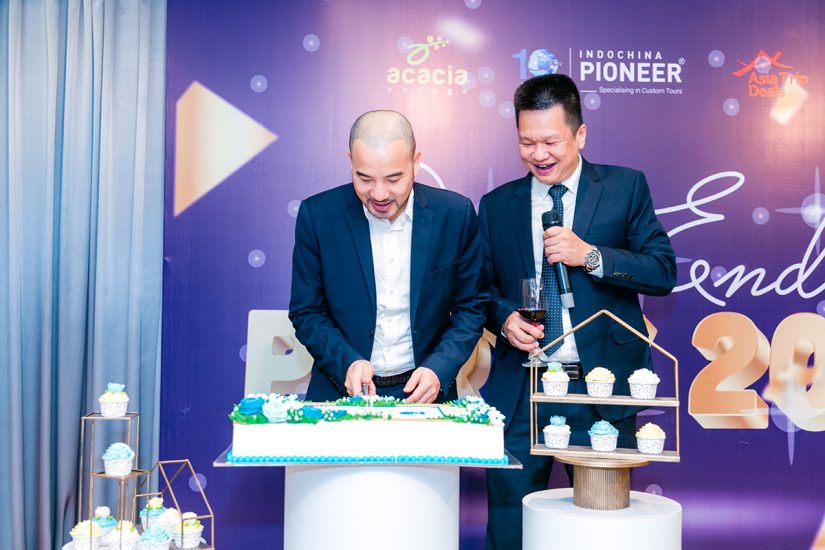 Our founders started the party with a cake-cutting ceremony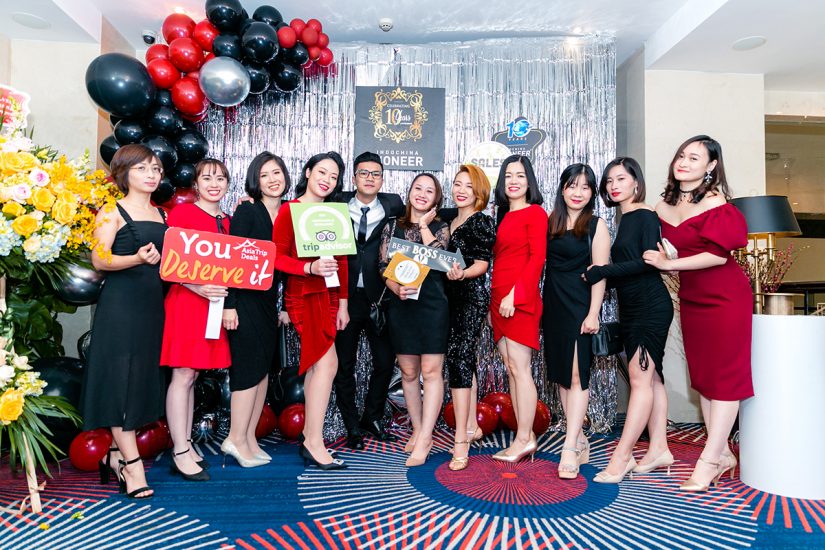 Our wonderful Sales Team, who have put in their best effort to create amazing holidays for our clients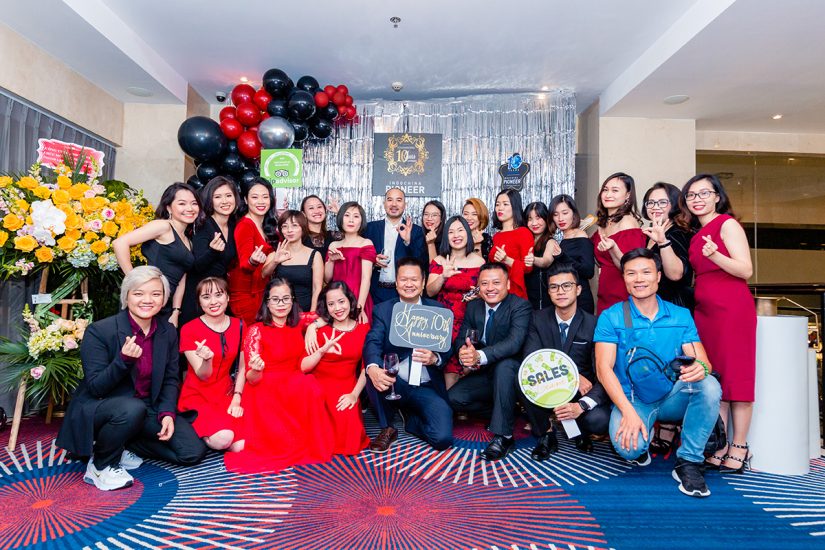 Asia Pioneer Travel Family
We may not know what the next ten years will bring, but we promise the same level of commitment and service to our customers that has been our core values and define our reputation in the tourism industry. We believe that many more years later, we still carefully select the best people, products and services to represent and have served thousands of travellers all around the world.
We would also like to take this opportunity to thank all our customers, partners and team members for being a part of this success story with Asia Pioneer Travel. We very much look forward to another successful ten years!