4 reasons make you want to head to Southern Cambodia ASAP

The magic of Cambodia is undeniable to travelers all around the world. This charming land has it all, from the UNESCO heritage, complicated history, interesting culture, to exotic foods and breathtaking natural landscape. "North or South" is always a question to Cambodia lovers in case you don't have enough time to cover the whole country, so let's see what is attractive in the Southern region of the country besides the mighty Angkor Wat. 
Southern Cambodia is another face of this country which won't disappoint and will fill your heart in your Cambodia vacation. The region has much to offer those who visit; culture, natural beauty, an interesting history, delicious food and a slow pace of life for those seeking to unwind as well as explore.
Enjoy the peaceful but wonderful Kampot town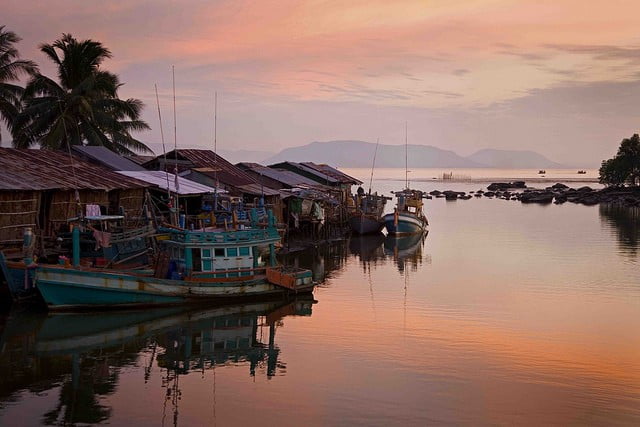 The beautiful riverside town, with famously laid-back lifestyle – Kampot – is an interesting combination of old French colonial buildings and Chinese style shophouses. This is an ideal place for travelers to wander the streets spotting architecture, drink coffee, or eat in one of the many restaurants and cafes on the riverside in their Cambodia trip. You also can find a number of sunset river cruises and plenty of local life and culture to immerse yourself in the Cambodian highlights. The streets of Kampot are quiet and peaceful but the bustling local market gives you a real glimpse into the daily life of the locals, as well as being somewhere to spot many of the locally grown fruits such as the infamous durian which the area is famed for.
Kampot offers a wide range of wonderful foods, from hand-pulled noodles and dumplings to freshly made pizza and pasta being sold from a roadside stall in a makeshift restaurant. Bakeries, cafeterias, and food strolls are something you should not miss while being in Kampot
Explore Bokor Mountain National Park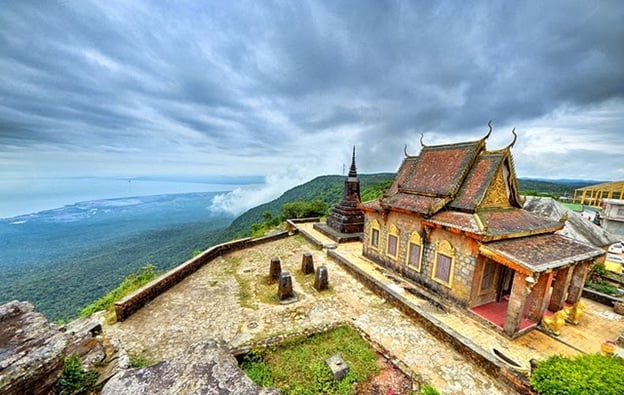 Bokor Mountain National Park is home to part of the last remaining rainforest in Cambodia with pristine forest, plants galore and even rare sightings of wild animals like tigers, leopards, and elephants (amongst many other rare and endangered species). This national park has a cooler temperature than down below in nearby riverside Kampot; clean fresh air and the Popokvil waterfall providing humbling experience in the rainy season with tea-colored water (stained by organic matter in the water) gushing down over the rocks with a dramatic force. Stand on the polished flatbeds of rock as the water gushes by with real force and feel truly alive.
You can also find the Bokor Hill Station sitting here, which was abandoned after the Khmer Rouge took power in the 1970s and occupied many of the buildings whilst the regime was in power. This station is a collection of French colonial buildings which originally designed in the early 20th century.  The road that winds up the mountain takes in waterfalls, Buddhist monuments, crumbling churches, a giant casino and, at its peak, the crumbling remnants of Bokor Hill Station with hotel & casino, church, royal residence, etc.
Make sure you spare some time for Kep while enjoying a holiday in Cambodia. Kep is a quiet French colonial town, a peaceful and poetic version of Sihanoukville, where you can enjoy the long sandy shoreline without worrying about the tourist crowds. Besides the famous seafood and white-sand beach, Kep offers its admirers the spooky remains of decadent past, when it was the playground of Cambodia's elites, whose crumbling mansions now provide a forlorn record of the country's cultural zenith in the 1960s.
Like a lot of other places in Cambodia, Kep is having a more recent revival and there are many new luxury villas and boutique hotels opening on this famous coastal Cambodian destination so it may well just be the place to go to for the finer things in life once again.
Let Us Help You Plan Your Cambodia Trip. 
Don't let the planning stress you out. Tell us your travel ideas and our travel advisors are very glad to give you suggestions and guidance for your trip planning. We can tailor-make your trip according to your interests and requirements, and help to create the best Cambodia vacation for you.