You will regret if you don't visit these highlights in Koh Samui, Thailand

You can leave Koh Samui, but your heart will not. The island gem has all the things every beach lovers dream about, endless white sandy sandbank, crystal water, gorgeous sunset, and perfect cocktails. So besides the perfect ocean vibes, what's else Koh Samui can offer to its admirers?
While being in this tropical paradise, you should check all the highlights below to experience the best version of Koh Samui
Na Muang waterfalls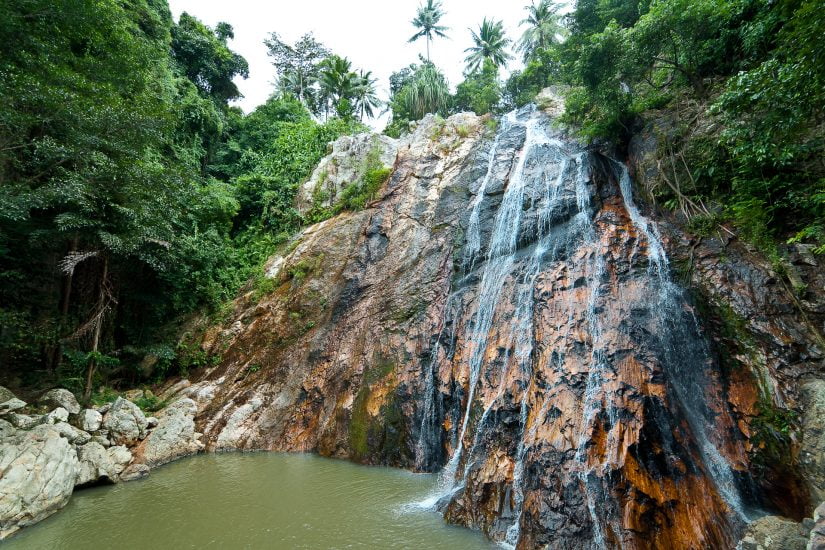 Na Muang is a majestic set of two cascades on Koh Samui island, and its beauty is not to be missed. Twin waterfalls are carved naturally into the rocks in the shady forested area of the island, and tree roots help channel the water into the depths of the pool at the bottom. Besides admiring the charm of Na Muang, you can swim in the pools here, making for an incredible experience, and you can also head here to start an interesting trekking around the island. If you take a short ten-minute walk up a rocky path, you will reach the second largest waterfall on the island, so this whole area is well worth exploring.
Hin-Ta and Hin-Yai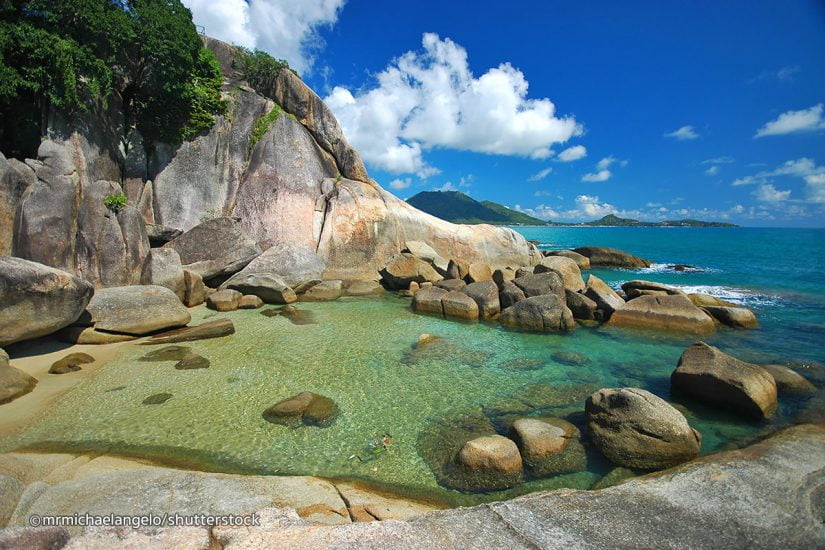 Hin-Ta, which means Grandpa, and Hin-Yai, which means Grandma are two famous stones located on Koh Samui's south coast. This is a source of mirth and wonders on this island since they were discovered by the locals. Naturally crafted by the elements, they closely resemble male and female genitalia. These stones are famous among locals and travelers alike, and many Thai people visit them from the mainland. There are some great shops nearby in the area selling wonderfully authentic Thai produce, including beautiful bowls and vases made from coconut palm wood, and a selection of sweets and local delicacies.
The southern peninsula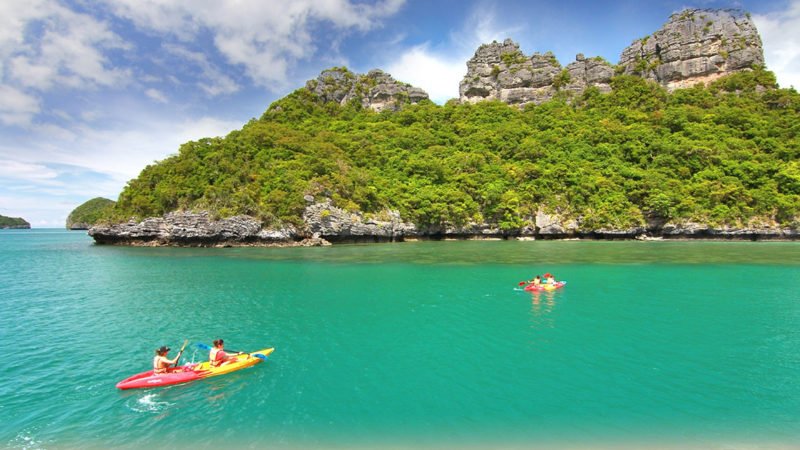 The whole southern area of the island is really spectacular in terms of natural beauty, with huge spans of untouched forest, clear stretches of coconut palms all the way to the sea and hidden bays and beaches that provide relaxation and escape from the more popular spots.
Overlap Stone
What's exactly the thing makes a 20-30ft rounded stone resting on a natural platform become so hot in Koh Samui? Well, we must say, many things… High above Lamai, the clifftop has a precarious yet breathtaking overhanging stone, and if you make it all the way there you are rewarded with a beautiful view of the island, plus a chance to experience first hand the immense natural beauty of this geographical marvel. And it is not easy to find this stone location, making its reputation become more attractive to explorers.
The interior
Traversing into the center of the island is more than worth the walk. If you are itching to explore a bit more of the incredible landscape, you can enter the interior of the island either from just south of Nathon or from Maenam. In Samui, you'll find a wide range of rental accommodation, so finding somewhere to stay in this area to suit your requirements and budget shouldn't be a problem.
Let Us Help You Plan Your Thailand Trip.
Don't let the planning stress you out. Tell us your travel ideas and our travel advisors are very glad to give you suggestions and guidance for your trip planning. We can tailor-make your trip according to your interests and requirements, and help to create the best Thailand vacation for you.