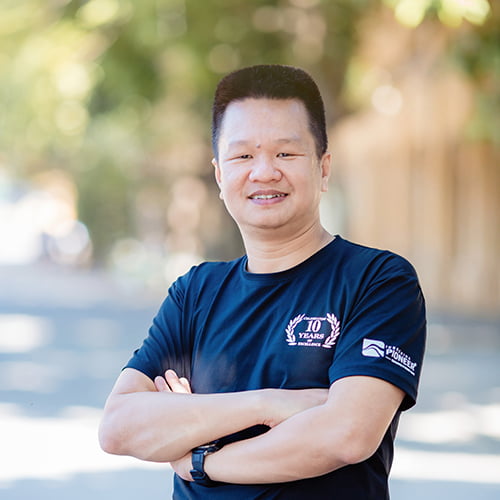 Quyen's  interesting background in Foreign Language Studies gives him a sophisticated grasp on even the most complicated aspects of English language and cultural differences. At the early stage of his career, Quyen started as an University lecturer, to satisfy the passion of sharing his knowledge to people. However, Quyen quickly realized the real "love of his life" coming from applying what he knows to real life, by combining them with his big hobby: travel.
No sooner leaving his teaching job, Quyen spent more than 10 years in tourism industry, practicing, learning, experiencing with many types of occupation (tour guide, tour leader, tour manager, operation manager, customer service manager etc.), cooperating to a number of famous local and international brand names. In 2009, together with another travel expert, also his best buddy, Lam, Quyen established Asia Pioneer Co., Ltd to fulfill the desire of bringing the Indochina homeland and Asia as close to the rest of world as possible, by providing signature service packages created from insightful understandings in tourism and passion.
Besides being a travel expert, Quyen also loves music and sports, and is a fun person to be around. He is also a devoted father and husband.
Arlene Cornwall
Dear Quyen,
I also cannot believe we are heading home tomorrow. I have had a trip of a lifetime and will never forget my time in Thailand, Cambodia, and Vietnam. Each of our experiences down to the last one on Mekong Delta have been more than I expected.
The guides have all been wonderful and so knowledgeable.
I really enjoyed our fun night out with you and thank you for the beautiful scarf. I will need it with the cold weather at home.
I will certainly recommend your company to anyone travelling to south east Asia.
I will also give your best to Cam and Don.
Kind regards
Arlene Cornwall
PS It has been nice relaxing on the beach the last couple of days.
Show more
Show less
Mary-K & Doug
Hi Quyen,
We are all home safe and sound. Always happy to be off the plane after the long flight. We all had a wonderful time traveling in Thailand, Cambodia and Vietnam, thanks to your help. Our airlines connections, hotels, guides and adventures were all perfect. Given the time we had to spend there is nothing we would have changed. I have not seen Cam and Don yet but hope to see them in the next few days. I am sure they will love the beautiful scarves you gave them. Now that I am home where it is cold I am wearing my new scarf to keep warm. It is a nice memory of you and of our fun travels. Thank you so much for everything. If I know of anyone else traveling to SE Asia I will definitely refer them to to Asia Pioneer.
Hope all continues to be well with you and yours
Mary-K
Show more
Show less
Thank you from Deb Gray Australia
Dear Quinny,
Thank you very much for all your effort's in attending to our needs whilst we were travelling in Cambodia and Vietnam. And and tie had a fabulous experience and enjoyed the trip tremendously.
You provided us with some outstanding guides and drivers and for their expert services we would like to extend them our most humble gratitude and appreciation for their efforts, which I am sure in some ways was far beyond their duty.
Would you be able to provide me with all the names and contact details of our Drivers and Guides for each area that we visited we are getting a little gift together from Australia and would like them to receive these gifts of thanks.
Again, I extend to you our most humble thanks for a trip of a lifetime.
Yours sincerely
Deb Gray
Show more
Show less