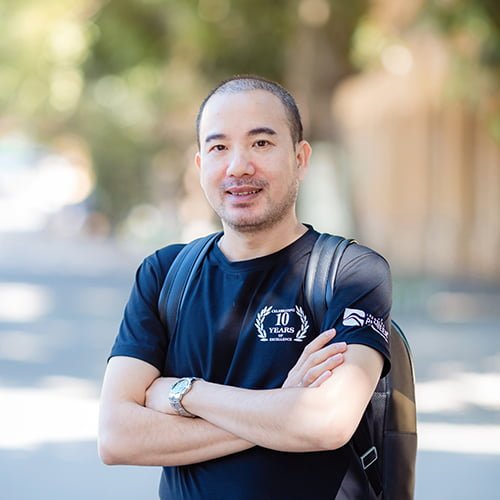 Holding a Bachelor Of Arts in Foreign Studies from the reputable Languages and International Studies University, Lam, with an open and service-oriented mind, has never considered himself as an interpreter which was his original plan for life.
His career in tourism industry began in 2001, with his excellent skills in foreign languages, knowledge of different cultures from the university, and his pure passion for travel. After nearly 10 years of collecting industry insights by experiencing many positions, from ordinary tour guide to senior tour manager, in both US & UK large corporations, he decided to start a business with his best friend, Quyen, in 2009.
With the companies inspiring motto "Experience – Learn – Enjoy" Lam began his exciting adventure in planning tours, and through his hard and responsible work he has certainly achieved this.  Lam loves reading, learning about new cultures, travelling, and obviously his wonderful wife and 02 children.
The tour was excellent
We asked Lam at Asia Pioneer to arrange a tour for 2 couples that would include a week in Cambodia, a week in Laos and 2 weeks in the northern part of Vietnam. We had done the southern part of Vietnam 2 years ago. We were not disappointed.
The tour was excellent, we had a private mini bus with driver and an English speaking guide, that was from each area we visited. All flights, pickup / drop off at of each the airports within these countries was arranged by our tour representative, as well as hotels and any admission to tourist sites.
The tours were very impressive, we got to see the so many great attractions from amazing ancient heritage sites to country and mountain vistas.
There were no hiccups in our time touring these countries, everything flowed smoothly, and we were in control of our time. If we had seen enough temples for that day then we would cut it short and pick something else to see or just call it a day. The guide and drivers were very flexible to meet our needs.
We have passed on Lam's name and Asia Pioneer contact data to several friends, and 1 couple has used them recently to visit Thailand and Vietnam and after talking with them they were very impressed with the service.
I am sure we will be using Lam again in the future.
Show more
Show less