The Best 12 Vietnam Souvenirs To Bring Home

Vietnam is a culturally diverse country with stunning scenery, a fascinating and complicated history, and hundreds of traditional artisan villages. They're excellent for exploring, but it might be challenging to figure out what's lovely as a present while still being uniquely Vietnamese. Check out at our list of the top 12 excellent Vietnam souvenirs to thrill your loved ones and retain as a reminder of your trip.
Nón Lá (Conical Hat)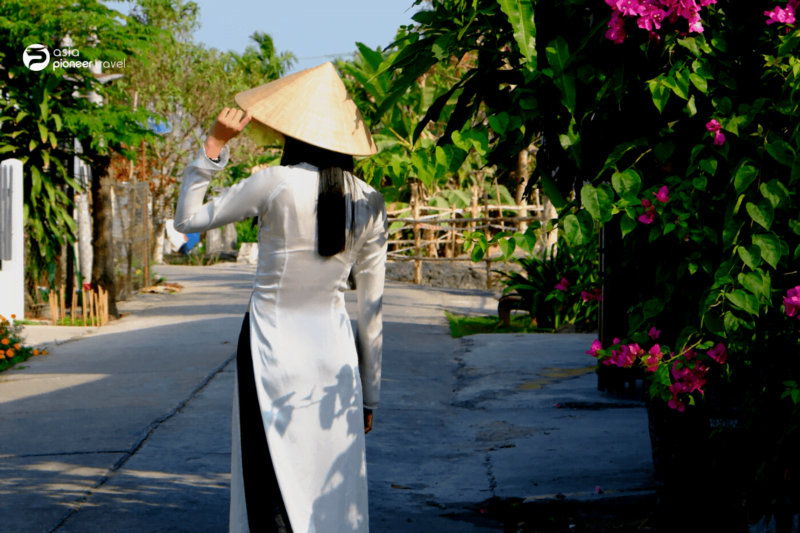 It is only fair to have the conical hat as one of the best Vietnam souvenirs. The conical hat is among the most recognizable symbols and a familiar item with generations of Vietnamese. The handwoven palm leaf hat is rich in history and cultural significance, and it was created to protect people from the rain and sun. They are worn by people of all ages and genders, but it is especially popular among those who work outdoors in markets, in rice paddies, and on the sea. You may buy the hat early on your trip and use it throughout your trip in Vietnam. 
You may get one at any Vietnamese souvenir shop for 30,000 – 100,000 VND ($1.30 – $4.3 USD), or at the local market for around 20,000 VND ($1 USD). 
Custom Áo Dài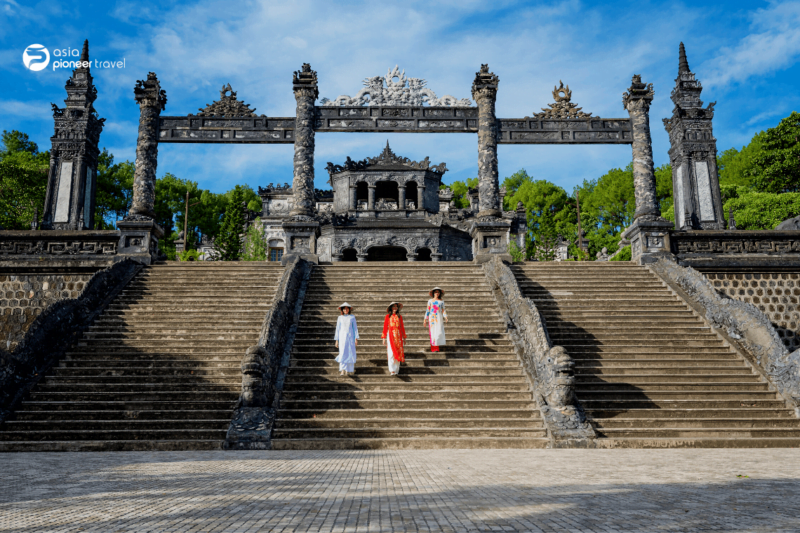 Why not get one (or several) custom ao dai when you are in Vietnam? The áo dài is a national symbol of traditional Vietnamese beauty, femininity, and sophistication. The exquisite tunic has long sleeves, a stand collar, and side seam slits up to the waist, and it is typically paired with palazzo-style pants. Vietnamese ladies wear áo dàis on a regular basis in Hanoi, although it is particularly common at weddings and around the Tet festival (Vietnamese New Year).
The dress shirt and pants set may start at 600,000 VND ($25 USD), depending on where you buy them. One of the best places to have a custom ao dai is Hoi An, which is famous for its many tailor shops, and you can pick up your set after just 1 day! 
Read More: Essential Experiences To Do In Hoi An Of Vietnam
Vietnamese Coffee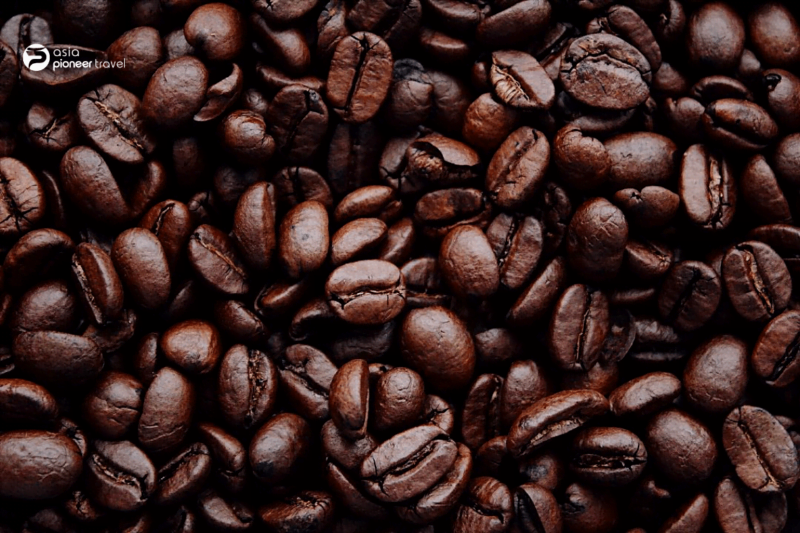 This one is for a great Vietnam souvenir for coffeeholic. Vietnam has a massive coffee industry! It is the second-biggest coffee exporter and the largest producer of Robusta coffee, so trust these folks to make the most of it. Vietnamese coffee beans are available practically everywhere, from large retail malls and international airports to little cafés and local markets. Cà phê đen đá (black coffee), cà phê sữa đá/bạc xỉu (coffee with condensed milk), cà phê sữa chua (yogurt coffee), cà phê trứng (egg coffee)… the list of delightful caffeinated beverages is endless.
The focus of coffee production is the central highlands, such as Buon Ma Thuot, Dalat, and Pleiku. These places are also where you can buy the highest-quality coffee. Prices range from 170,000 – 600,000 VND ($7 – $25 USD) per kilogram or haft, depending on the brand or quality.
Tips: You should buy the Vietnamese coffee drip filter. The item is pretty cheap, starts at just 25,000 VND ($1.07 USD).
Silk Products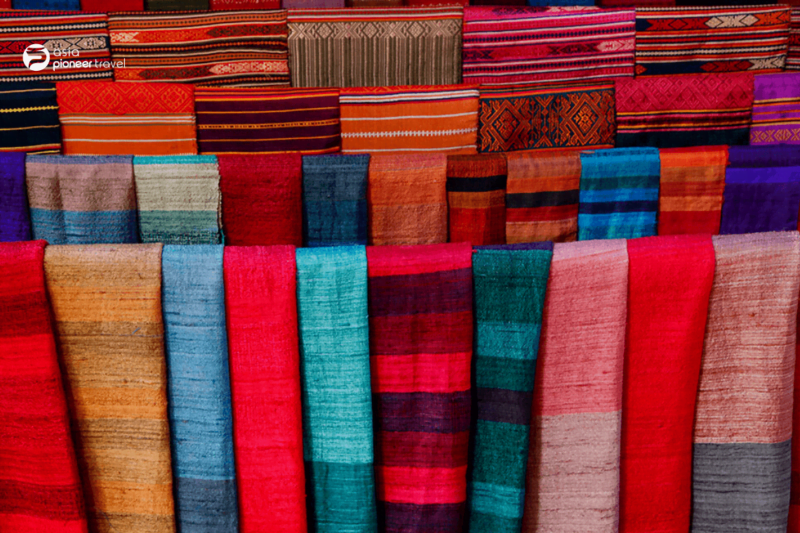 Silk products are always on top of the tourist's top things to buy in Vietnam. Silk items may be found in most stores in Hanoi's Old Quarter, Hoi An, and Ho Chi Minh City. Everything from sleeping bag liners to dressing gowns to áo dài is fairly priced.
When entering, you will see tailor shops stacked sky-high with a rainbow array of silks ready to be made into a pattern of your choice for around 230,000 VND ($10 USD) per meter. Vietnamese silk's incredibly diversified and gorgeous colors and designs will suit all customers ' demands.
Vietnamese Musical Instruments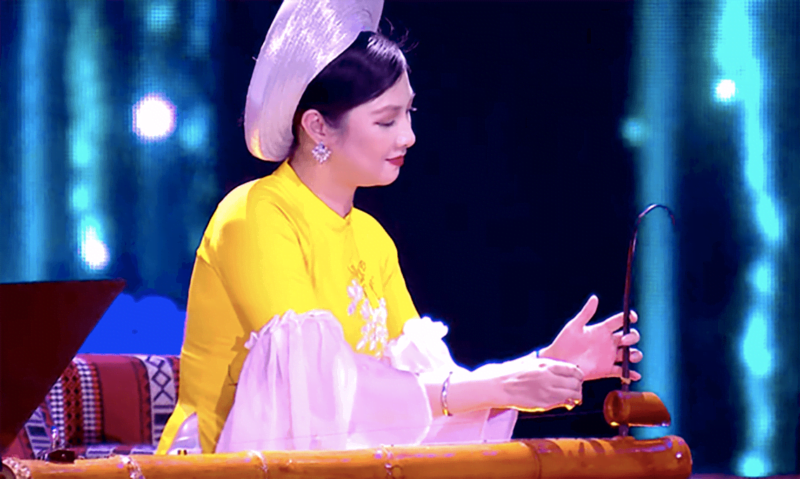 Vietnam has 54 ethnic groups, each with a unique culture, customs, clothes, and spiritual practices. As a result, people created a variety of native musical instruments out of materials as close to their life as wood, bamboo sticks, metal, and even rocks.
Whether you enjoy musical instruments or are simply interested in Vietnamese culture, you may purchase some of these instruments as a souvenir of your trip to Vietnam.
Tips: Before buying any instruments, make sure you have enough space in your luggage, or else, purchase the equipment miniatures or simple ones like a flute or small drum. 
Guốc Mộc (Wooden Clogs)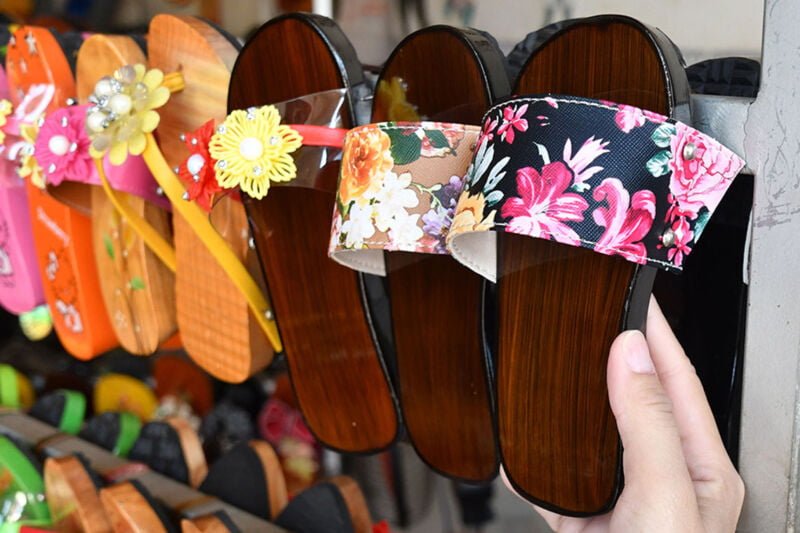 Wooden clogs have been around for thousands of years, and are often worn with a áo dài. Yet, their history predates ao dai by thousands of years. While traditional wooden sandals have evolved from plain, serious wear to more trendy styles with gloss paint and decorations, they remain an integral part of Vietnamese heritage. Although they are no longer often used, they make a cute souvenir or a nice addition to your sandal collection.
Lacquerware items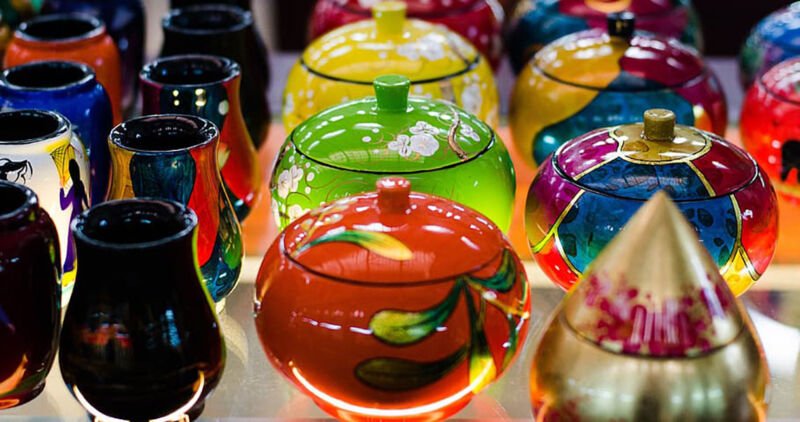 Lacquerware is known as Sơn Mài in Vietnam. The unique art forms require months and 20 various careful phases to achieve a high-quality product depending on the size of the artifact. Lacquer goods are sold at souvenir stores for decorating, such as large-scale artworks, paintings, and picture books, as well as bowls, dishes, vases, trays, and jewelry boxes for daily use.
Food Souvenirs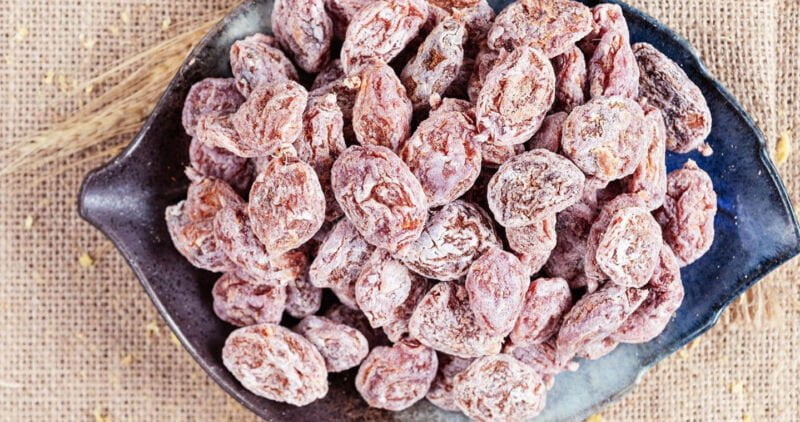 Well, these are special Vietnam souvenirs to surprise your friends and families. Vietnamese snacks like ô mai – which is the name for all kinds of sugared dry fruits, bánh đậu xanh (mung bean pastry), hoa quả sấy khô (dried fruits), and kẹo dừa (coconut candy) are delicious, and you can bring them home, too!
Vietnam is a heaven of amazing tropical fruits like jackfruits, bananas, lychees, etc, so people make dried fruits as a fun snack to chew on. Ô mai is a delicacy of Hanoi, bánh đậu xanh is the specialty of Hai Duong Province, while kẹo dừa is Ben Tre's famous candy. Vietnamese people often eat these snacks while enjoying a cup of tea to balance the sweetness or sourness. The snacks are cheap, costing between 23,000 – 90,000 VND ($1 – $4 USD).
Hand-embroidered Products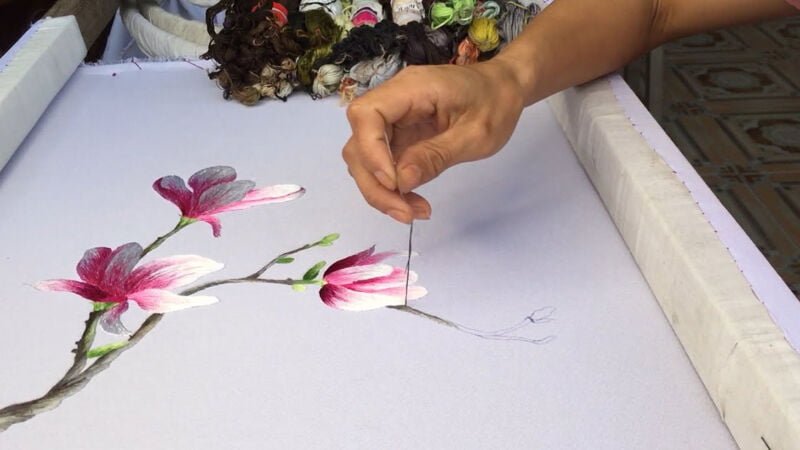 Embroideries are one of the most popular Vietnam souvenirs. Quilts, bed sheets, pillows, table runners, scarves, backpacks, and clothes are among the meticulously handmade products available. A dozen handicraft villages and manufacturing outlets may be found around the country. Large sizes require months to produce by hand, and the best ones are made of special linen and cotton with well-designed designs.
The cost of a product differs significantly depending on its size, quality, handmade, and factory batch production. Small pieces cost between 45,000 VND – 2,300,000 VND ($2 – $100 USD), while large-scale artwork costs between 23 million – 118 million VND ($1,000 – $5,000 USD).
Paintings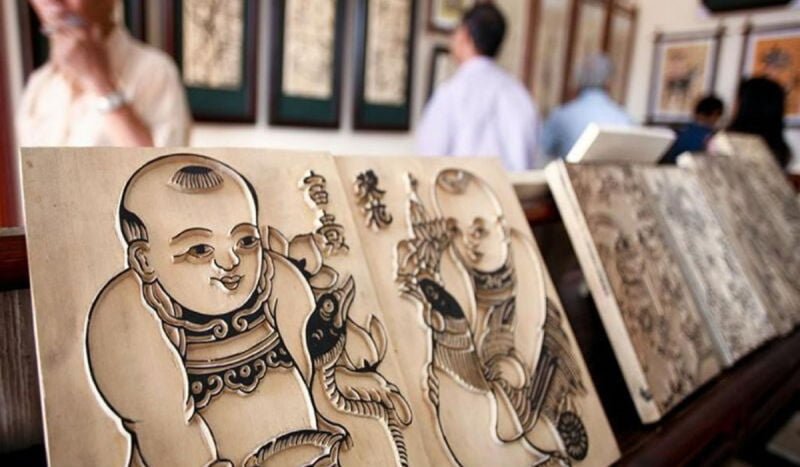 Paintings would be one of the more unique items to purchase in Vietnam. Artists attempt to artistically capture every moment of daily life in Vietnam. Paintings on canvas come in a variety of sizes and are made of oil, silk, or sand. The prices often start from 230,000 VND ($10 USD).
For traditional paintings, you may purchase Đông Hồ paintings, which are produced in Đông Hồ hamlet. This is the most well-known folk painting village, and its paintings on dó paper have become an aesthetic emblem in Vietnamese culture. The paintings are created by stamping the mold into the paper one at a time, adding color to the picture as it progresses. Traditional Đông Hồ painting topics include good luck symbols, historical figures, folk allegories, popular tales, and social commentary.
Paper Lanterns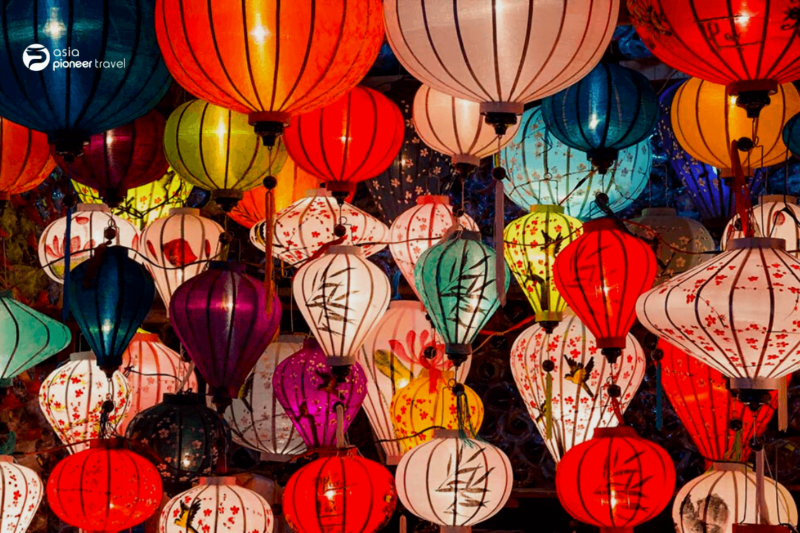 Paper lanterns are always a good idea. They are a sign of happiness and good fortune. These traditional lanterns, which are flat, packable, and ready to go, will give a touch of sensuous Vietnamese elegance to any garden or bedroom and are available in a rainbow of magnificent colors and materials starting at 90,000 VND ($4 USD). Paper lanterns are the symbol of Hoi An, and this is also the finest spot to buy this product.
Postcards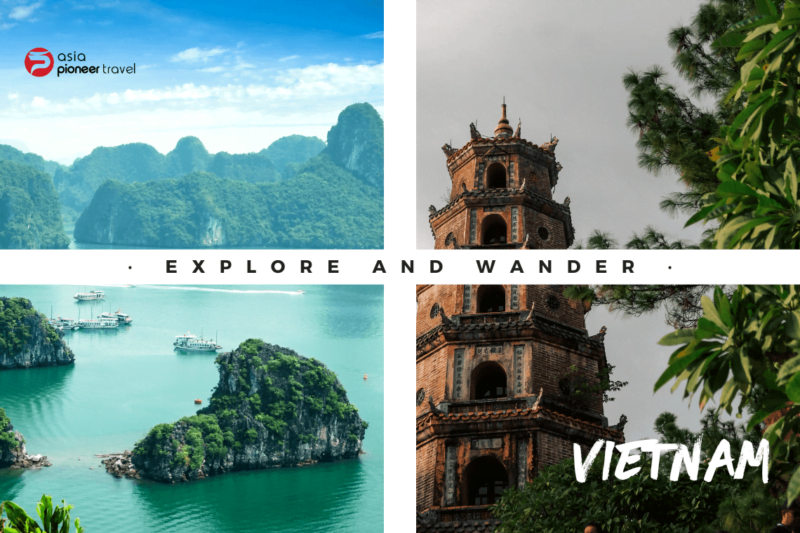 Last but not least, postcards are an item we always recommend travellers purchase. They are great souvenirs for anywhere you go, including Vietnam. Plus, you can buy them anywhere, from souvenir shops to bookstores, for around 20,000 VND ($0.9 USD). The most special place to buy and post postcards is the famous Saigon Central Post Office in Ho Chi Minh City. These oldies but goldies souvenirs surely will surprise and delight your loved ones!
Let Us Help You Plan Your Vietnam Trip
Don't let the planning stress you out. Tell us your travel ideas and our travel advisors are very glad to give you suggestions and guidance for your trip planning. We offer personalized tours according to your interests and requirements and help to create the best Vietnam vacation for you.