Seeking for adventures? Here're the best treks in Vietnam!
We have known Vietnam as a perfect destination for culture explorers and history buffs, with the epic landscapes on the road and unique architectural buildings on the streets. But you may not know that every year thousands of adventure seekers throw themselves in this country, especially professional trekkers, to conquer the most beautiful and interesting trekking routes.
From the rooftop of Southeast Asia to opportunities to experience the wildlife, from spectacular mountainous sights sitting in the clouds to wonderful waterfalls hidden in the jungles, you can make all of them happen in your Vietnam vacation. And these trek collection below is really noteworthy, which you can do at any level being suitable for your needs and wants.
Cao Bang

Cao Bang may be a new name to you, but sure you know about Vietnam's largest waterfall, also one of the most majestic cascades in Southeast Asia — Ban Gioc Waterfall. A Cao Bang trek will be perfect for experiencing the hill tribe in Vietnam, which takes you past a series of tribal villages of the Tay, Hmong, Nung and Red Dao people, before heading to the famous historical destination, Pac Bo village. There lies Coc Bo Cave, famed for its involvement in the revolutionary activities that Ho Chi Minh led in early 1941. This comparatively easy walk also affords fascinating views of Ba Be National Park, which is home to plenty of caves, lakes, and ponds, so get ready for a lovely swim around the coolest natural aqua pools.
Sapa

Sapa is a famous name for any Vietnam travelers, actually, it can be considered as a must in your Vietnam holiday. Besides some parts being pioneered for tourism, you are still able to find plenty of villages and routes remaining wild and untamed. A trekking adventure takes in an impressive array of Sapa's challenges and pleasures. If you want an easy start, Muong Hum Commune is a nice beginning, then you can explore deeper into more indigenous communities such as those of the White Hmong, Dao and Giay. The trek will lead you through fabulous valleys, crystal clear streams,  and mountain peaks with spectacular views. To deeply understand Sapa's tribal history, you should put Nam Pung Village in your list, this place contains the most remote villages and many interesting true stories about the area. And don't miss the chance to experience Sapa homestay, where you can explore the unique local culinary and cultural traditions.
Ha Giang
The highest peak Dong Van of Ha Giang will be a little bit more challenging, which is really suitable for professional trekkers. This is a border town with a series of awe-inspiring mountain pass and valleys. And the route running from Dong Van to Meo Vac town will surely be the most interesting one that you have ever experienced, as they cross many passes and climb several summits and also, tremendous views. At the top of Ma Pi Leng Pass is a panorama of mountain ranges, limestone peaks, and canyons. Then, descend into the beautiful deep valleys dotted with fields and rocky mountains.
Nam Cat Tien National Park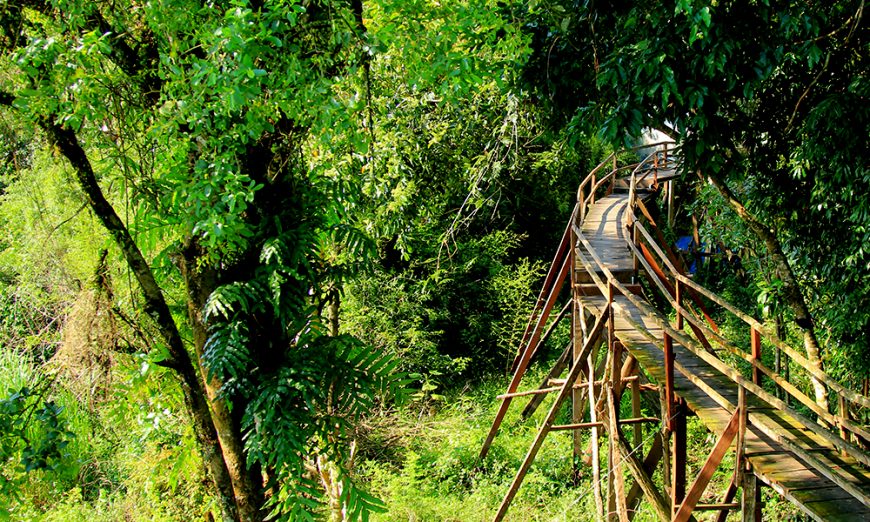 As one of Vietnam's most important and largest National Parks, Nam Cat Tien is a "can't miss" name for trekkers. Whether you want to explore the untouched forest, catch a glimpse of little-known wildlife or challenge yourself to off-the-beaten-track trekking, Nam Cat Tien National Park near Ho Chi Minh City is the ultimate expedition for nature-lovers.  This is the home to abundant wildlife, including gibbons, sambar deer, wild boar, black-shanked douc and rare flora and fauna. The gibbon trek offers a chance to see endangered primates in the wild. A highlight of the trek is undoubtedly the viewing of gibbons and their daily activities.
Let Us Help You Plan Your Vietnam Trip.
Don't let the planning stress you out. Tell us your travel ideas and our travel advisors are very glad to give you suggestions and guidance for your trip planning. We can tailor-make your trip according to your interests and requirements, and help to create the best Vietnam vacation for you.
Refresh your life! with Asiapioneer Travel
Free service. No credit card required