Expert's Guide On The 12 Best Treks In Vietnam With The Most Picturesque Views

Trekking in Vietnam is unquestionably a favourite activity for many adventurous travellers. With Vietnam's diverse topography providing a plethora of stunning trekking routes with varying levels of difficulty, people with different health conditions and experience levels will find a suitable trek. A list of the top 12 best treks in Vietnam worth exploring has been compiled based on the votes of both locals and foreign travellers.
12 Best Treks In Vietnam For Adventure Seekers
1. Ha Giang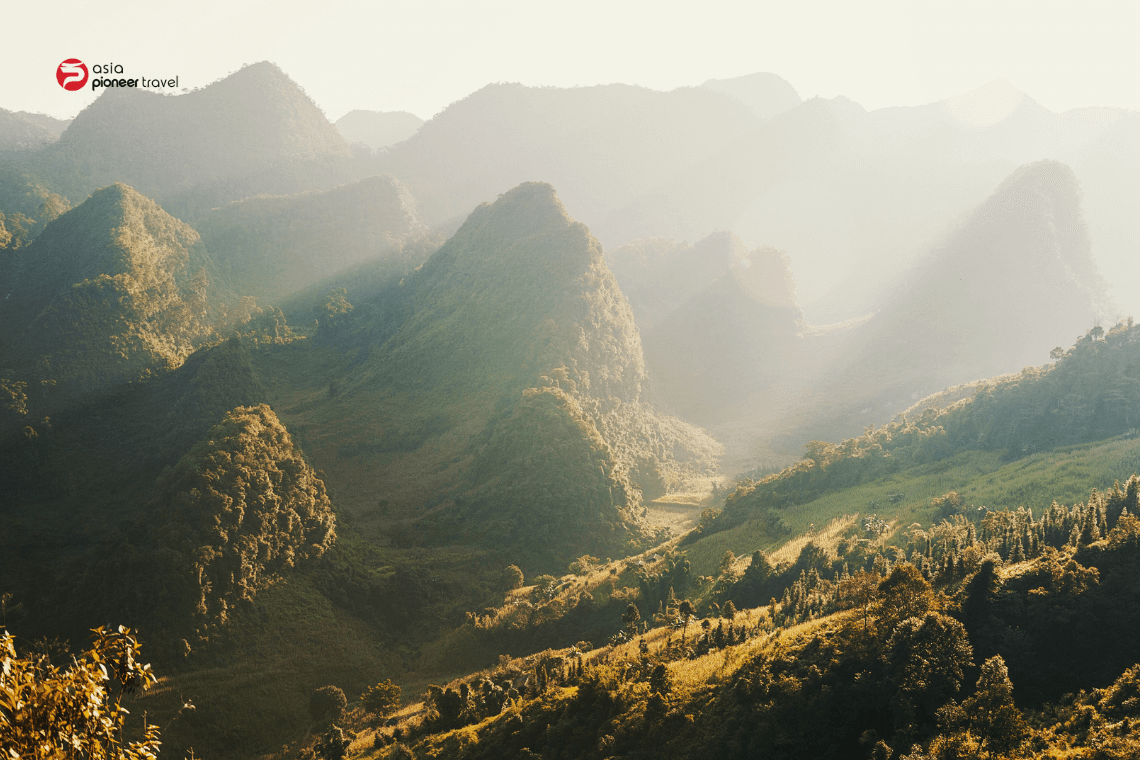 One of the most spectacular parts of the Ha Giang trek is the climb to the highest peaks of Dong Van, a border town known for its magnificent mountain passes and valleys. While the trails from Dong Van to Meo Vac town can be strenuous due to numerous passes and summits, the breathtaking views make it all worth it.
At the peak of Ma Pi Leng Pass, you'll be treated to a stunning vista of mountain ranges, limestone peaks, and canyons. As you descend into the beautiful valleys, you'll see fields and rocky mountains dotting the landscape. Make sure to visit the Hmong King Palace, which features a traditional Chinese-style mansion with four double-story wings, built by Chinese traders with the consent of French colonial rulers in 1902.
2. Sapa
Sapa still has many areas that remain wild and untouched. For those seeking adventure, a 10-day trip offers a range of challenges and delights.
Begin with a leisurely stroll to Muong Hum Commune, then delve deeper into local communities, including the White Hmong, Dao, and Giay. Along the way, you'll journey through stunning valleys, mountain peaks with breathtaking views, and pristine streams. After a walk to Nam Pung Village, you'll spend six days trekking uphill and downhill, visiting the most remote villages steeped in Sapa's tribal history. Many travelers highlight the homestay experience, which offers an opportunity to explore the local culture and cuisine.
3. Cao Bang
Embark on an unforgettable hill tribe trek through Vietnam in just four days. Don't miss out on Ban Gioc Waterfall, the largest waterfall in Vietnam and one of the most magnificent in Southeast Asia.
Along the trek, you'll pass through a series of tribal villages belonging to the Tay, Hmong, Nung, and Red Dao people before reaching Pac Bo village. You can explore Coc Bo Cave, which played a significant role in Ho Chi Minh's revolutionary activities in early 1941. This trek is relatively easy and offers breathtaking views of Ba Be National Park, which boasts a range of caves, lakes, and ponds. Don't forget to pack your swimsuit!
4. Ba Be National Park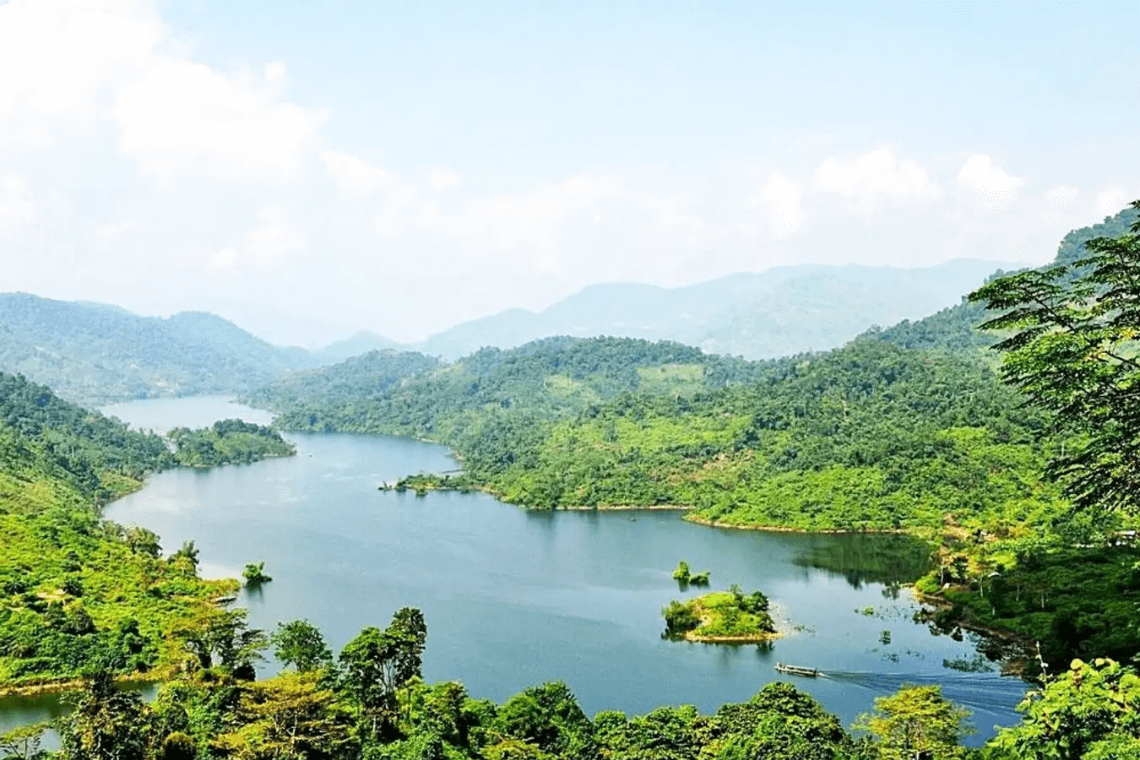 The Ba Be National Park is a must-visit destination in the Vietnamese highlands. It boasts lush greenery, majestic limestone peaks, and beautiful lakes. The park is home to various species of birds, mammals, and butterflies, all of which are hidden in the dense jungles. The villages here are inhabited by the Tay, Dzao, and Hmong communities, providing visitors with an opportunity to experience their culture. What's more, Ba Be is not yet overcrowded, making it a serene spot to explore.
Trekking here is similar to how it was in Sapa a generation ago, offering visitors an authentic experience of mountain culture. You can also witness stunning waterfalls and intricate cave systems and stay overnight in peaceful homestays overlooking the lakes
5. Cat Ba National Park
The lush green scenery of Cat Ba National Park in Halong Bay is breathtaking, with an array of moss beds and forest glades showcasing a spectrum of emerald, lime, and chartreuse hues.
To fully immerse oneself in this vivid landscape, it is best to explore on foot, starting from the park headquarters at Trung Trang. For those with extra time and a desire to explore the island and its national park, Cat Ba is a perfect destination. The island is spacious enough to accommodate a challenging trekking tour that can last up to 5-6 hours per day, making you really sweat. 
6. Bach Moc Luong Tu Mountain (Lao Cai)
Bach Moc Luong Tu Mountain may not be as well-known as Fansipan Mountain, but it's just as impressive. The fourth highest peak in Vietnam at 3046 meters, this mountain offers a thrilling three-day trek for those who are up for the challenge.
The terrain is tough and varied, with boggy patches, dense forests, and rocky slopes. But the experience is worth it, especially during dawn and dusk when the views are breathtaking. You'll wake up early to reach the peak and immerse yourself in the beauty of floating clouds. And when the sun sets, the scenery is simply magnificent.
7. Mai Chau (Hoa Binh)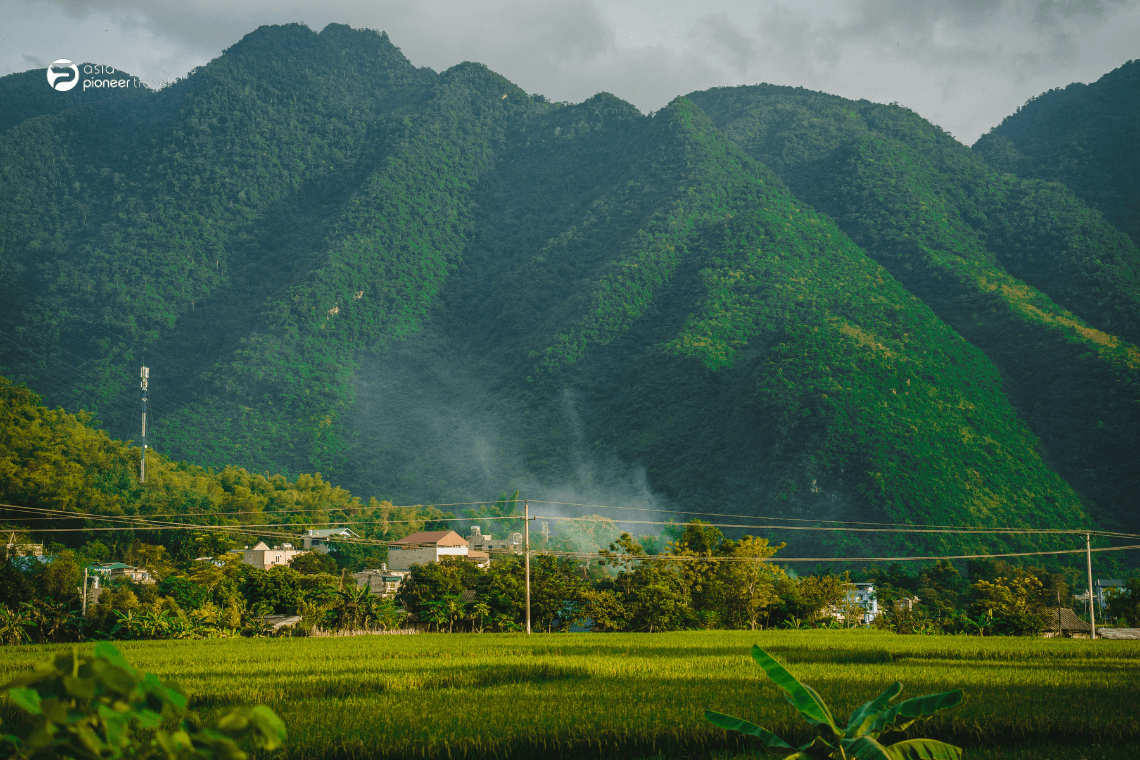 If you're looking for hiking terrain near Hanoi, Mai Chau township is a great option. Just 135km (84 miles) southwest of the capital, it's surrounded by lush green rice fields. The trekking terrain here may not be very challenging, but it is no doubt beautiful.
The most popular spots for hikes are the villages inhabited by the White Thai people, who are famous for their vibrant textiles. You can buy these textiles without much haggling. To get a taste of the region's offerings, try the 18km (11-mile) trek from Ban Lac village to Xa Linh village.
8. Cuc Phuong National Park 
If you're interested in experiencing the natural wonders of Vietnam, Cuc Phuong National Park is a must-see. This park is the cornerstone of Vietnam's conservation efforts and is easily accessible, located only 120km from downtown Hanoi.
It is ideal for hiking enthusiasts, offering a variety of trails that lead to ancient trees, caves, and Muong villages. You can obtain a basic map from park staff to locate the trailheads, but a guided tour is highly recommended for both short and long treks. If you have more time to spare, longer walks to Ngoc Son Nature Reserve and Pu Luong Nature Reserve, overnight treks, and camping trips are also available.
9. Lang Biang Mountain (Da Lat)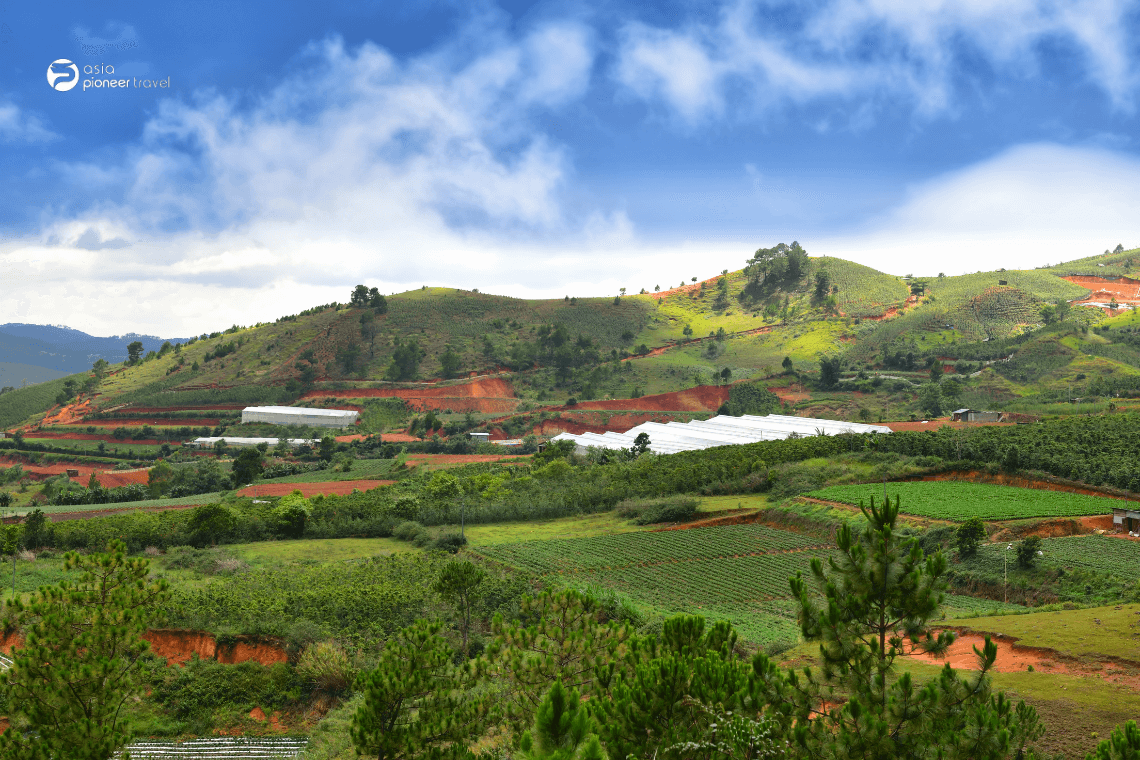 The Lang Biang trekking trail is a great choice for beginners, with a leisurely 4-hour walk on clear paths and gentle slopes. You can take breaks whenever you need to and enjoy the sights at a moderate pace.
It is perfect for a springtime stroll, as you can take your time to appreciate the blooming scenery. At the summit of Lang Biang, take a moment to soak in the breathtaking view of Da Lat City from a height of 2,167m. The best times to visit are early morning or late afternoon when the fog adds a mystifying beauty to the surrounding clouds and scenery.
10. Nam Cat Tien National Park
Nam Cat Tien National Park, located around 160 kilometers northeast of Ho Chi Minh City, is a thriving habitat for diverse wildlife, such as gibbons, sambar deer, wild boar, black-shanked douc, and rare flora and fauna. It is a popular destination for trekking enthusiasts in Vietnam.
The half-day hike from the national park headquarters is the most preferred route, especially for those who want to spot the golden-cheeked gibbons. Trekkers need to start early to catch the primates' hooting dawn chorus. Most visitors also come to the Dao Tien Endangered Primate Species Centre to witness more simian encounters. The trip fees from guests are then used to support the park's conservation efforts.
11. Ta Lien Son Mountain (Lai Chau)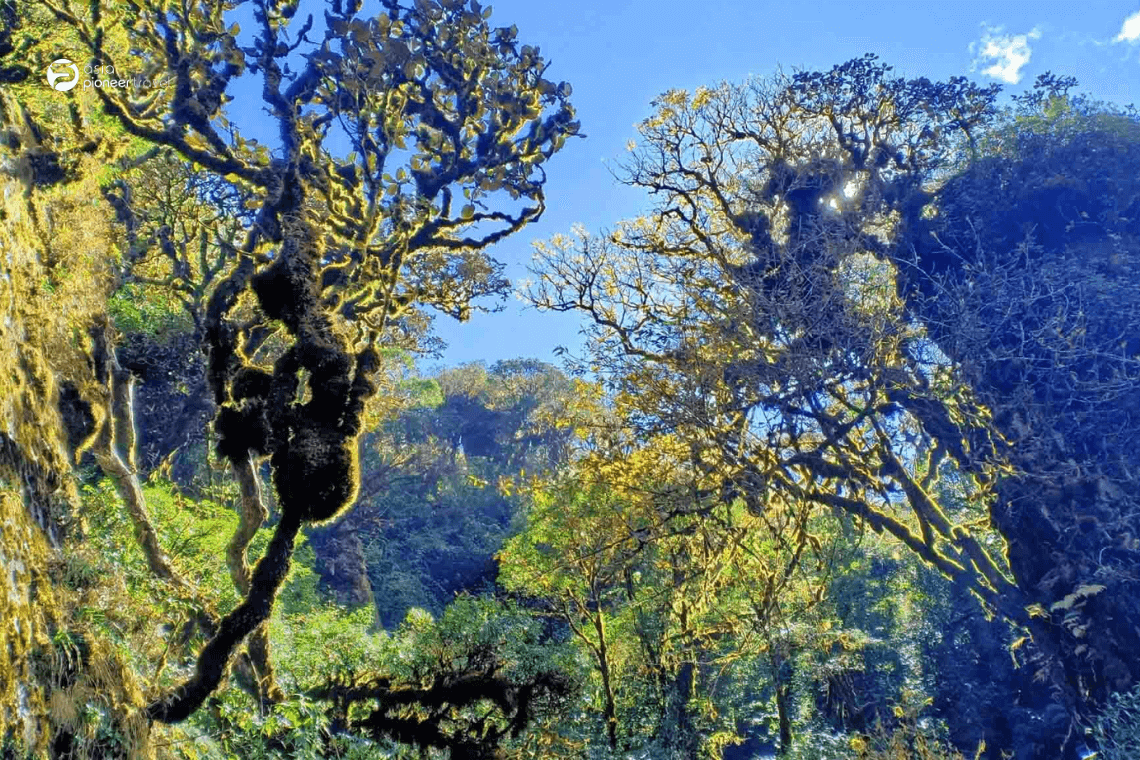 Ta Lien Son, one of Vietnam's top 10 highest mountains, towers at nearly 3000m. It is fondly referred to as the "enchanted forest" for its picturesque scenery, reminiscent of a fairy tale, and diverse plant life.
Intermediate trekkers can enjoy the trek, which lasts 3 days and 2 nights. On the first day, you can ascend to a height of 1900m and camp in a cave or on a flat surface before sunset. The following day, aim to make it to the summit before 2 PM so that you can return to your previous night's resting place before nightfall. At the top of Ta Lien Son, you'll find yourself surrounded by clouds, and it will feel like you're almost touching the sky. Finally, on the last day, trek back down to the mountain's base.
12. Ta Nang – Phan Dung
One of the most breathtaking trekking routes in Vietnam and a must-do for avid trekkers.
This trail covers the forested areas of three provinces – Lam Dong, Ninh Thuan,, and Binh Thuan – over a period of three days. Beginning at Ta Nang ward in Lam Dong province. You will trek a distance of nearly 60km, facing diverse topography such as streams, hills, and forests. The highest point of the trail is 1100m. As you journey through, you will be awed by the stunning natural beauty of green fields, pine forests, and fog-laden hills. Truly an experience of a lifetime!
Essential Tips For Trekking in Vietnam
1. Before the trek
Consider your trip time, the destinations you wish to visit (such as ethnic communities, mountains, or national parks), and the time of year you will be in Vietnam (dry season is optimal for trekking in Vietnam).
Stay prepared and ready for both mental and physical obstacles.
Check the weather forecasts. Hiking is not recommended on days with heavy rain and extremely slick roads.
Consider hiring a local tour guide to accompany you or asking the locals for further information.
2. Items to bring with you
Enough food and water and a first-aid kit
Hiking boots with high quality
Raincoat or waterproof jackets and pants in case it rains
Flashlight or headlamp
GPS navigation devices and a map.
For long hikes, bring your tent and warm sleeping bag
Sunscreen and mosquito repellent
Trekking Tours In Vietnam
Asia Pioneer Travel offers several tours with short treks, which allows you to immerse yourself in unspoiled nature and enjoy the stunning scenery of Vietnam.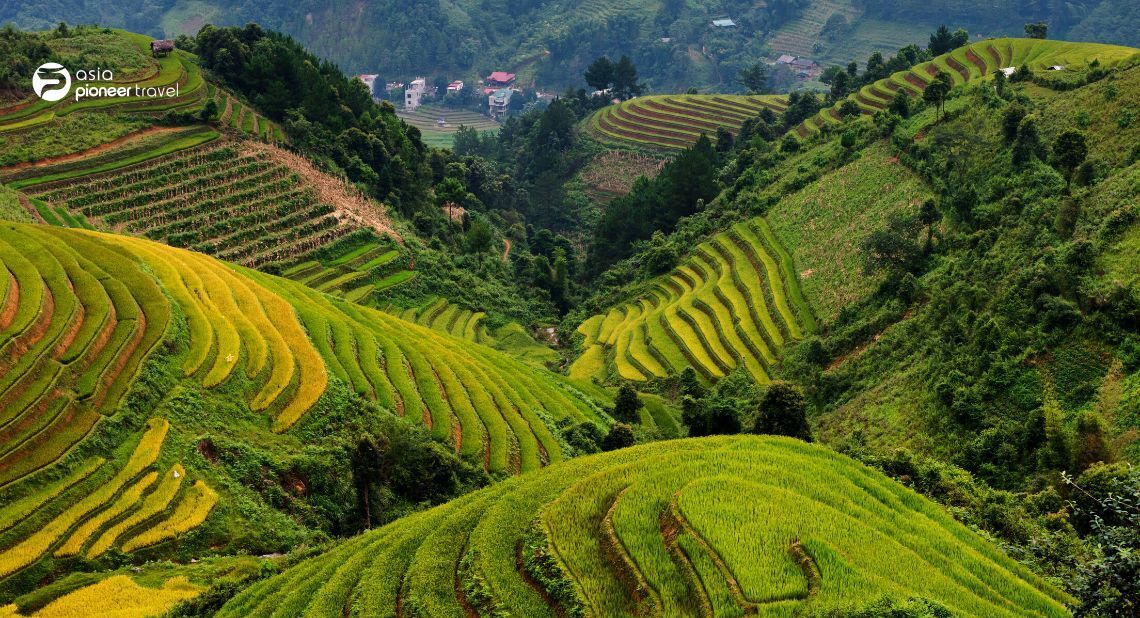 This 13-day tour takes you to travel from the striking northern regions with towering mountains to the beautiful sea of Halong – one of Vietnam's UNESCO Heritage Sites.
Itinerary
Day 1 – 2: Hanoi
Day 3 – 5: Cao Bang
Day 6 – 10: Hoang Su Phi – Sapa
Day 11 – 13: Hanoi – Halong Bay
Experience the magic of Hanoi by taking a leisurely stroll through the quaint streets of the Old Quarter and discovering the city's enchanting sights. Enjoy a scenic drive to Cao Bang and be amazed by the breathtaking views along the way, including the stunning Ban Gioc waterfall and the fascinating karst formations in Nguom Ngao Cave. Get lost in the natural beauty of Ba Be Lake, Puong Grotto caves, Dau Dang waterfall rapids, and Widow Island.
Embark on a thrilling trek through the magnificent terraced rice fields of Hoang Su Phi, which have been bestowed with the honor of being a 'National Heritage'. Take a short hike to the hill tribe villages in Sapa, and indulge in an exhilarating cable car ride to the summit of Fansipan, also known as 'Indochina's rooftop'. Finally, wrap up this unforgettable journey with a serene and picturesque cruise through the captivating Lan Ha Bay.
For those who want to explore the wild beauty of Ha Giang, this tour is designed for you. 
Itinerary
Day 1 – 4: Hanoi – Thon Tha Village – Quan Ba – Yen Minh – Meo Vac
Day 5 – 8: Dong Van Karst Plateau – Hanoi
Embark on the 'Ha Giang 8-day Adventure' tour and experience the awe-inspiring beauty of Vietnam's northernmost region. From Hanoi, journey to a land blanketed in various shades of green, with sparkling blue water flowing amidst lush rice paddies, creating a picturesque landscape. Explore the quaint towns of Quan Ba, Dong Van, and Meo Vac, home to diverse ethnic groups. Engage with the friendly locals and witness their daily way of life.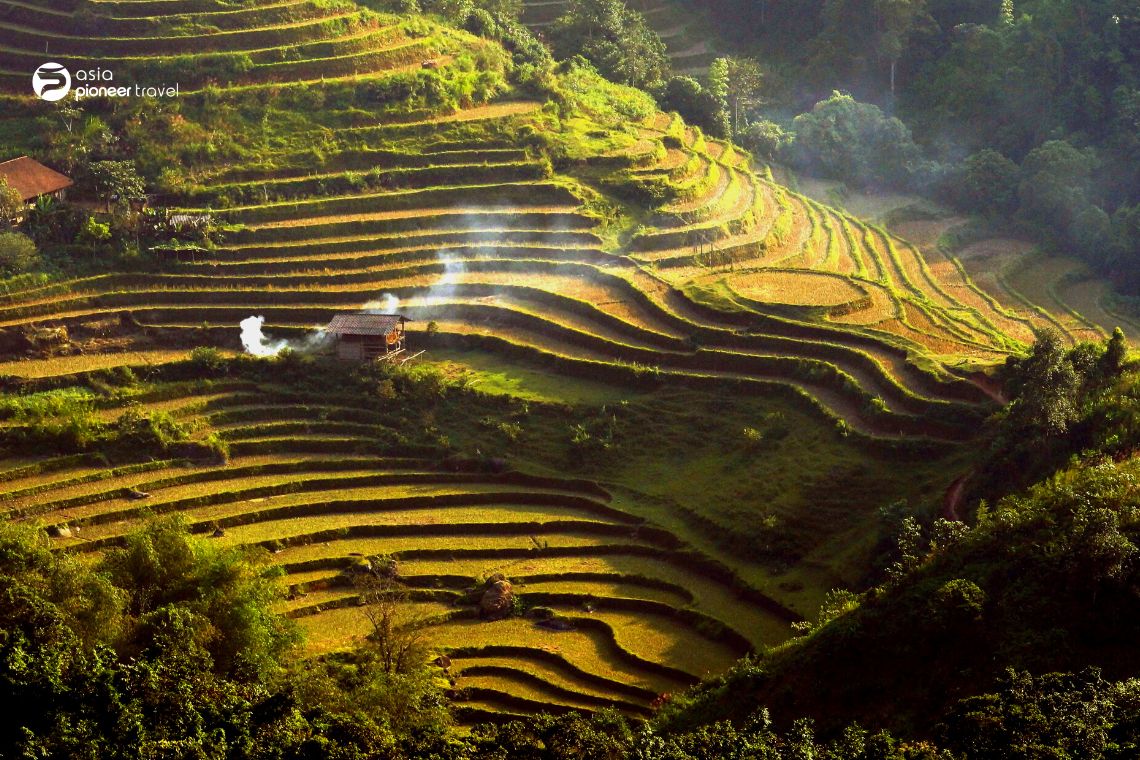 Ready for an amazing 13-day journey? Come explore the stunning landscapes of the "Discover Ha Giang & The Far North" tour!
Itinerary
Day 1 – 2: Hanoi
Day 3 – 4: Bac Ha
Day 5 – 6 – 7: Ha Giang
Day 8 – 12: Cao Bang – Ba Be National Park – Hanoi
You'll get to experience the simple life of rural Vietnam by visiting Van Giang village and Bat Trang village, which are located near Hanoi. Take a hike through the beautiful local trails and terraces in hill tribe villages and enjoy the lively Bac Ha Sunday market. You'll also get to explore the lesser-known yet breathtaking Ha Giang region, filled with limestone pinnacles and granite outcrops. Discover the unique customs and traditions of the hill tribes in Quan Ba, Yen Ninh, Lung Cu, and Dong Van, Meo Vac.
And don't miss out on seeing the amazing Cao Bang and Ban Gioc waterfalls situated at the Vietnam / China border. Finally, breathe in the fresh, clean air while exploring Ba Be National Park, a UNESCO Natural World Heritage Site, known for its incredible lakes, waterfalls, and caves. Book now for an unforgettable adventure!
The "Northwest Loop" trip will take you to the most stunning landscapes in this area of Vietnam.
Itinerary
Day 1 – 5: Hanoi – Lang Son
Day 6 – 9: Cao Bang – Ba Be – Thai Nguyen – Hanoi
Drive to Mai Chau for its lovely views, stopping along the way to see the verdant meadows, tea fields, and luscious orchards. Before travelling to Dien Bien Phu to explore the historic battlefields, stop by the French Prison in Son La.
Spend time exploring Sapa, the historic French hill station, and then meander through Bac Ha Sunday market, the main hill tribal market in the north. After completing a 3-hour journey through Lao Cai's serene highlands, visit Ma Tra and Ta Phin villages. Visit Mu Cang Chai's gorgeous rice terraces and meet diverse indigenous ethnic minority tribes.
Book your upcoming trips with Asia Pioneer Travel – The Best Travel Agency in Vietnam!
Asia Pioneer Travel has over 14 years of experience in the tourism industry and has established itself as a premier, reputable, tailor-made travel agency in Vietnam and Asia. We constantly pay close attention to and comprehend the demands and preferences of our customers, enabling the creation of excellent holidays. After taking our bespoke tours, many customers have told their friends and family about them. Because our customers deserve it, we consistently strive to ensure complete satisfaction.